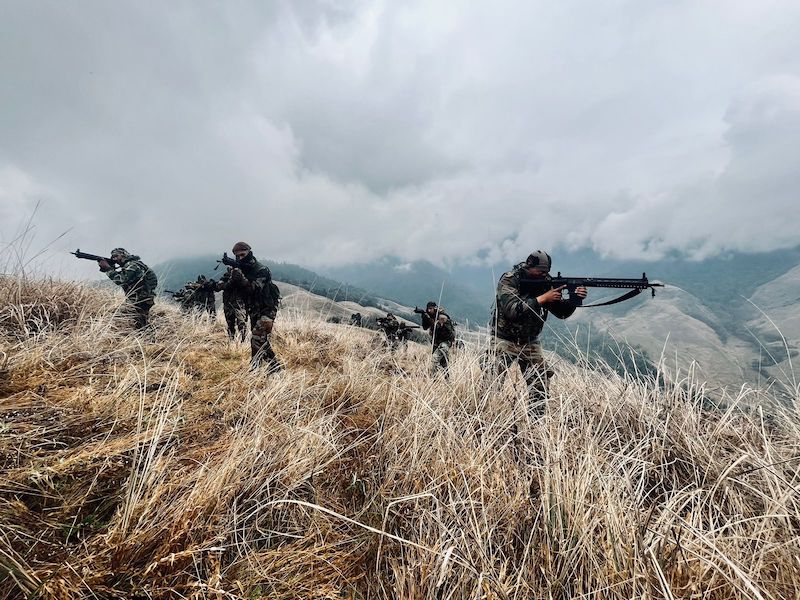 Army special forces during the exercise. (Photo: Indian Army)
New Delhi: The strategic forces of the Indian Army and the Indian Air Force carried out a joint multidomain exercise in the eastern theatre, in the first week of April. The exercise was conducted to validate joint plans for strategic airlift of specialized forces employing the IAF's fixed- and rotary-wing aircraft by landing or dropping in designated areas to provide a boost to regular ground forces engaged in combat operations, sources in the defence and security establishment said.
It said such special exercises are a mix of conventional and unconventional combat actions that are undertaken by specially designated, selected, trained, and equipped units.
In the exercise, the IAF's C-17 Globemaster III heavy-lift aircraft, Chinook, and Mi-17 helicopters undertook multi-mode insertion of the Army's special forces into designated greenfield landing zones with "surgical precision".
The Army's paratroopers from the Shatrujeet Brigade (50th Parachute Brigade) conducted special heliborne operations with the aim of validating their ability to rapidly deploy into hostile environments using Chinooks and Mi-17 helicopters to augment the capability of the regular ground forces.
"The exercise carried out in designated areas of eastern theatre as per a tactical setting, showcased the operational preparedness and synergy of strategic forces and troops of the Eastern Army Command to undertake integrated multidomain operations in high-altitude and mountainous terrain," they said.
"Overall, the troops displayed exceptional professionalism, competence and synergy while operating in the treacherous mountainous terrain."
It may be noted that this drill comes at a time when tensions have been mounting between India and China over the disputed boundary in the northern and eastern sectors. Military forces of the two countries are in a high-tension stand-off in eastern Ladakh, which saw a deadly clash between the troops of the Indian Army and China's People Liberation Army, in June 2020.
More recently, Indian and Chinese troops clashed in Arunachal Pradesh's Tawang sector, which resulted in injuries to both sides.
---