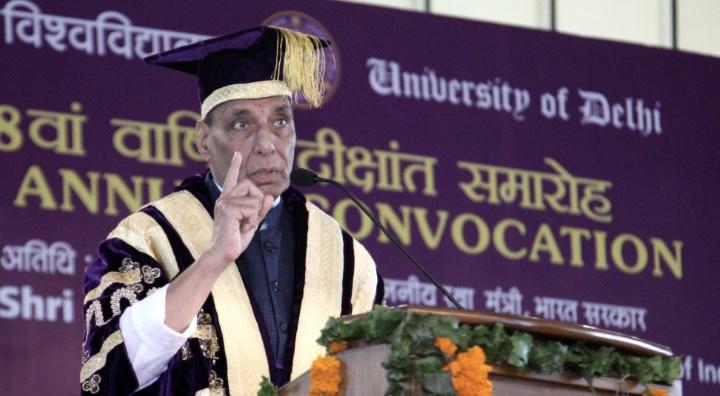 New Delhi: Defence Minister Rajnath Singh has said that India's rise to power is not to scare anyone but is guided by the spirit of welfare of the whole world.
Speaking at the 98th Convocation of the Delhi University in New Delhi on Satuday, he said that India aspires to be Jagat Guru again and the dream is to make the country powerful, rich, and also knowledgeable.
Highlighting the government's effort to build an entrepreneurial ecosystem for the development of youth, he noted that there was no start up ecosystem in the country earlier, however the scenario has changed rapidly in the last seven years.
"There were only 500 start-ups in country in 2014. But this number has gone to sixty thousand this year," he said.
"45 new unicorns were registered in 2021 taking the number of unicorns in the counry to 83; however in the first 50 days of this year 10 more unicorns have further joined them," he added.
Terming youth as the biggest source and catalyst of change in any country, he said youth is the greatest power our country has and its future depends on the youth power.
Stressing on innovation, invention and ideas, he urged the youth to come forward with a clear objective to take the leadership role to innovate, to invent and establish new companies and research establishment in the country.
Congratulating all students receiving degrees and awards at the ceremony, Singh said that Delhi University will be completing its centenary shortly, and during these 100 years, the university has established its credentials across the world.
Singh noted that it's the only university where the colleges bear the names of great entities and personalities across Ancient, Medieval and Modern ages.
He said that the alumni of Delhi University have spread across the world and have been successful in every sphere, instilling a sense of pride in their alma mater.
Recalling the ancient roots of the word "Deekshant" (Convocation) in the Taittiriya Upanishad, Rajnath Singh highlighted the importance of values to education.
He added that as the students step out into the world, they will have new avenues of learning. He further said that every body of knowledge has an applied aspect just like every theory has an applied science. He urged students to commit to working with their skill set in an applied mode in every field.
Underlining the need of understanding and connecting to the roots of Indian culture and tradition, he said no country can become great without understanding and giving respect to its golden past.


---