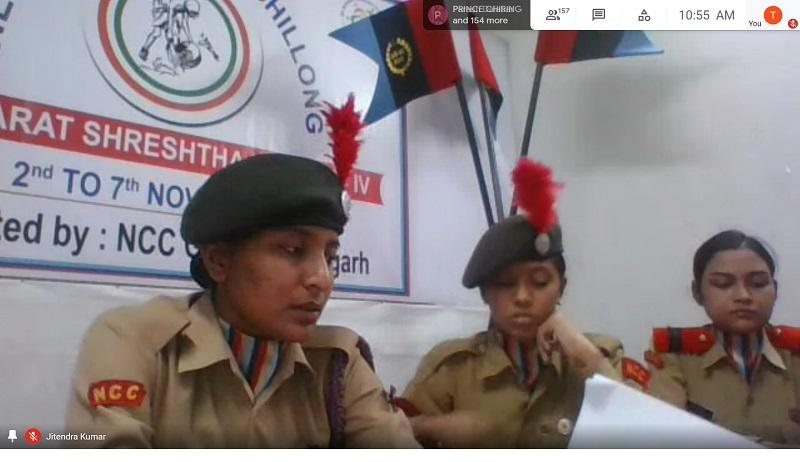 Dibrugarh: Dibrugarh-headquartered National Cadets Corps (NCC) Group has conducted online NCC Camp 'Ek Bharat Shresth Bharat' from November 2-7, wherein a total of 250 cadets from seven north eastern states, West Bengal and Sikkim participated in the camp.
The camp was organised under the aegis of NCC Directorate NER, Shillong.
The camp was conducted through a webinar using Google meet G suite platform, Tezpur-based defence PRO Lt Col Harsh Vardhan Pande said.
The theme of the camp was Swachhta & toy making in north east which was conducted by way of presentations, discussions, interactions to showcase the history, geography, tourism, cuisines and cultural heritage of all the various states of North East, West Bengal & Sikkim.
The aim of online Ek Bharat Shresth Bharat Saptah was to foster the spirit of National Integration and solidarity by overcoming cultural, religious, geographical, environmental and linguistic barriers which was evident in the enthusiastic participation of the cadets from these states, he said.
While the aspects of bonding, peer learning, team building and thrill of physically seeing the natural, cultural and geographical beauty could not be replaced through online camp, the cadets showed keen interest in knowing about the other states during the presentations and screening of videos.
The cadets also actively participated in online dance & song competition, Group discussion on 'Challenges of Swachhta' and quiz competition held on final day.
Maj Gen Anant Bhuyan, ADG NER, Shillong highlighted the importance of conducting such camps and exhorted all cadets to actively participate in all the events.
The General Officer who hails from Assam also participated in the entire online camp and expressed his happiness over the efforts and deep sense of involvement of the cadets to make the camp successful.
During the closing address on Saturday by Colonel Raja Maji, Officiating Group Commander, NCC Group Dibrugarh, he thanked all the participants for putting up excellent performances thus making the online camp a memorable event for cadets.
---