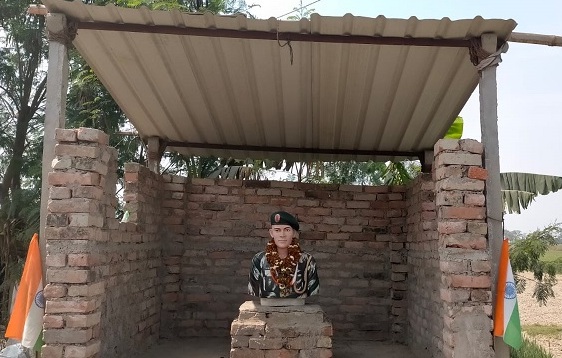 The still-unfinished Jai Kishore Singh memorial in Chak Fateh village in Bihar's Vaishali. (Photo: Twitter)
New Delhi/Patna: The defence minister, Rajnath Singh, called the Bihar chief minister, Nitish Kumar, on Wednesday, to discuss the alleged Bihar Police's brutality against a fallen soldier's father. Rajkapoor Singh, 70, alleged that the police manhandled him around midnight on February 25 over a dispute regarding the building of a memorial for his son, Jai Kishore Singh, an Army man who was killed in action against Chinese troops in eastern Ladakh's Galwan valley in 2020.
According to a defence ministry source, Rajnath Singh expressed his concern over the incident during the telephonic conversation with Nitish Kumar. The Bihar chief minister said he would initiate a probe into the incident and assured the defence minister that appropriate action would be taken against anyone found guilty.
---
Read also: Galwan fallen hero's father jailed in 'fake case'
---
Earlier on Wednesday, the Bihar opposition lawmakers raised the issue in the assembly and demanded strict action against the police personnel who allegedly manhandled and abused Rajkapoor Singh.
The Bihar Police arrested Rajkapoor Singh at around 11.30pm on February 25 after one Harinath Ram, who is a member of a scheduled caste community, lodged a complaint against the septuagenarian under the Scheduled Caste and Scheduled Tribe (Prevention of Atrocities) Act, 1989, over the construction of the memorial of Jai Kishore Singh in Chak Fateh village under the Jandaha block of Vaishali district. Harinath Ram alleged that Rajkapoor Singh was constructing the memorial on his land illegally.
According to media reports, the memorial's construction began only after a consensus between Harinath Ram and Rajkapoor Singh was reached at a meeting convened by the local panchayat body. The deal was that Harinath Ram would vacate his land for the memorial and in return would get another piece of land that Rajkapoor Singh would acquire for him. However, Harinath Singh backtracked from the deal and refused to vacate the land just as the memorial's construction was nearing completion.
---