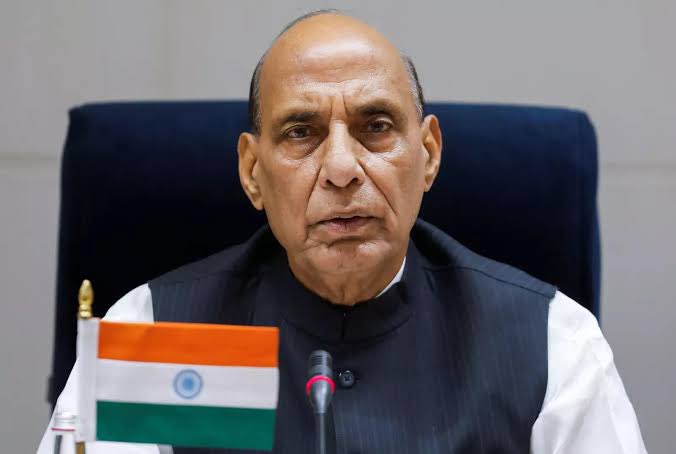 Rajnath Singh defers his Sri Lanka visit
New Delhi: Defence Minister Rajnath Singh, who was scheduled to leave for Sri Lanka on Saturday, had to defer his visit to later date.
Citing unavoidable circumstances for the development, the defence ministry said: "Rajnath Singh remains committed to strong bilateral cooperation between India and Sri Lanka. He looks forward to visiting the island nation at the earliest possible time frame."
On Friday, Indian Navy's first indigenously missile destroyer INS Delhi reached at Colombo. Rajnath Singh was supposed to host Sri Lankan president and prime minister, Ranil Wickremesinghe and Dinesh Gunawardena, respectively onboard INS Delhi.
Onboard INS Delhi, Rajnath Singh would have had to hand over state-of-the-art medical bricks that have been indigenously developed under project BHISHM (Bharat Health Initiative for Sahyog Hita and Maitri). These medical bricks are being given under India's 'Arogya Maitri' initiative. The initiative is to provide quality medical supplies to friendly foreign countries.
"The entire gamut of India's defence ties with Sri Lanka will be reviewed during the meetings. He will also visit Nuwara Elia in Central Sri Lanka and Trincomalee which is located in the eastern part of the country," the defence ministry had said.
His visit will reiterate India's continued commitment in furthering the existing warm and friendly relations with Sri Lanka. It will be an important landmark in building the strong bonds of friendship between the two countries, it had said.
"The ship's visit aims to strengthen navy-to-navy ties and bolster the Bridges of Friendship with India's trusted neighbour. The crew of INS Delhi would be closely interacting with personnel from Sri Lanka Navy, both through professional engagements to enhance interoperability, and by creating environmental and health awareness through beach clean-up drive and a yoga session," Indian Navy PRO Commander Vivek Madhwal said.
INS Delhi was commissioned in November 1997 and is presently Commanded by Capt Abhishek Kumar.
The ship has recently undergone a mid-life upgrade and is equipped with the latest weapons and sensors, making it a formidable platform that is capable of undertaking all facets of maritime operations - on surface, air and underwater domains.
---