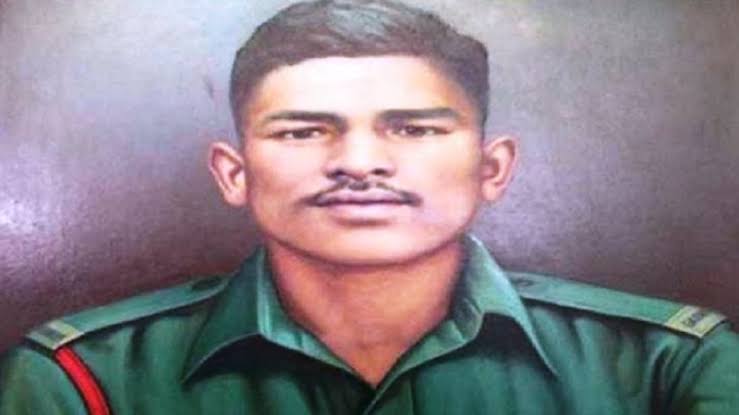 Jaswant Singh Rawat
Tawang: During the last phase of 1962 India-China war, the Indian Army units were struggling with a shortage of manpower and ammunition in the eastern sector.
On November 17, 1962 Rifleman Jaswant Singh Rawat's battalion was subjected to repeated Chinese assaults near Sela in Arunachal Pradesh.
Today, August 19 is his birthday. On his birthday, India Sentinels has brought to you about him in details.
Rifleman Jaswant Singh Rawat was born on 19 August 1941 to Shri Guman Singh Rawat, at village Baryun in Pauri Garhwal district of Uttarakhand.
He joined the Indian Army on August 19, 1960, two years ahead of the war with China broke out. He was 19.
He was recruited into 4 Garhwal Rifles of the famed Garhwal Rifles Regiment, known for its gallantry and many battle honours in various operations.
When you move towards Tawang from Sela Tunnel, each and every bend of the hills is studded with the heroic deeds of Indian soldiers, who made supreme sacrifice in protecting country's sovereignty.
At Jaswant Garh, in his memory, a war memorial was constructed years back. It is just about 25 kilometres away from Tawang.
What did Jaswant Singh Rawat do in 1962 war?
Jaswant Singh Rawat single-handedly had held off over 300 Chinese soldiers for 72 hours in the icy heights of Arunachal Pradesh with just one machine gun during the 1962 war before laying down his life.
He was posthumously awarded the Maha Vir Chakra.
Even after 60 years of his death, the defence ministry still gives him a pension and promotions as a mark of respect.
It is being believed that he still guards his post like he used to do in 1962.
At the war memorial, there is his statue and also a Smrithi Sthal.
What had happened on November 17, 1962?
According to an official, the Chinese soldiers had advanced attacks on Indian Army post at 5am that day. Rifleman Jaswant Singh along with other soldiers beat back two China's PLA groups. Then the Chinese started firing from an MMG from a close range.
Jaswant Singh Rawat along with Lance Naik Trilok Singh Negi and Rifleman Gopal Singh Gusain tried to subdue the MMG.
Rawat and Gusain, with covering fire from Negi, tried to seize the MMG. While returning, Gusain and Negi lost their lives.
Rawat was severely injured.
He refused to go back and fought with the help of two local girls -- Sela and Noora. They were jumping on different sides of the bunker.
For three days, the Chinese were not able to ascertain how many Indian soldiers are firing against them.
Over 300 Chinese soldiers were killed in this battle.
At the Jaswantgarh War Memorial, his daily requirements are kept near the statue because the forces believe he is still present.
The force believes that if any soldier while on guard falls asleep, Rifleman Jaswant Singh slaps him and asks him to do his duty.
Battle of Nuranang 1962: 'The Local Story'
When he was being assisted by two local girls -- Sela and Nura in fighting against the Chinese troops, a man who was supplying food and ration to Jaswant Singh Rawat, was caught by the PLA soldiers.
The man told the Chinese that there is only one man, knowing this fact the Chinese attacked in full force.
One of the girls Sula was killed by the grenade burst while the other girl was captured.
Jaswant Singh Rawat killed himself with his last bullet before getting captured by the Chinese.
The Chinese were so angry with him that they cut off his head back to China.
After the ceasefire impressed by the soldier's bravery, the Chinese returned his head along with a brass burst of Jaswant Singh.
The burst was an honor conferred for the valor displayed by the soldier.
The Official Citation:
The official citation at Jaswantgarh Memorial which was raised to honor Rifleman Jaswant Singh says:
The 4th Garhwal Rifles was awarded the "Battle Honor Nuranang", the only battle honor awarded to an Army unit in the Sino-Indian war of 1962.
---