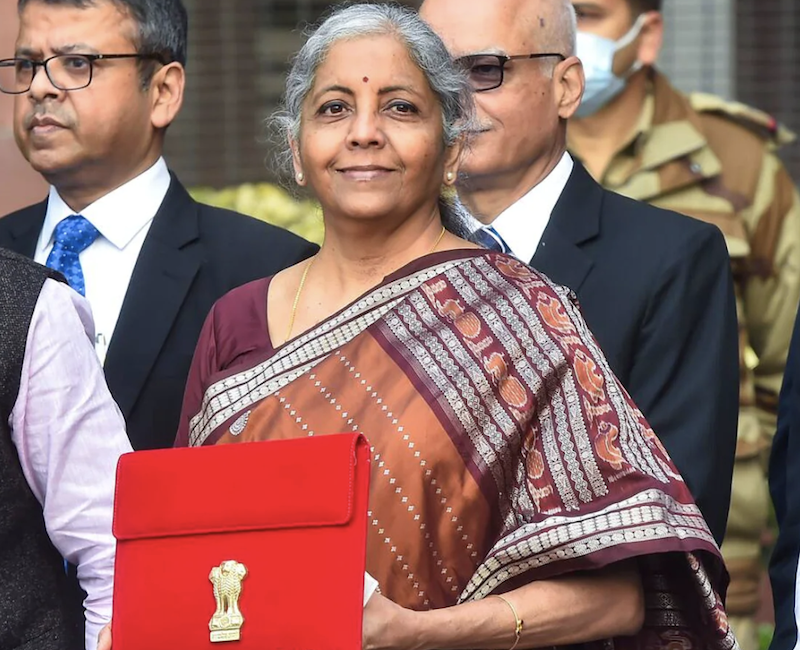 Nirmala Sitharaman, Union finance minister, before presenting the Budget 2023-24 in Parliament. (Photo: Twitter)
New Delhi: The finance minister, Nirmala Sitharaman, allocated ₹5.94 lakh crore for the defence sector while announcing the Union Budget for financial year 2023-24, on Wednesday. This is an increase of about 13 per cent against last year's allocation of ₹5.25 lakh crore.
Out of the total of ₹5.94 lakh crore, ₹1.38 lakh crore has been allocated for defence pensions, ₹1.67 lakh crore for capital expenditure, and ₹2.70 lakh crore for revenue expenditure.
The defence pension was hiked by 15 per cent to implement the government's recent announcement to expand the ambit of "one rank, one pension" (OROP) scheme, as India Sentinels reported earlier.
For the capital expenditure, which is meant for procurement of warships, aircraft, new weapons, and other warfighting platforms and systems, the finance minister has increased the fund by ₹10,000 crore from last year's allocation to a total of ₹1.62 lakh crore. However, for 2022-23, the budgetary allocation for the capital expenditure, which was ₹1.52 lakh crore, was revised, after which it showed the expenditure be ₹1.50 lakh crore.
Under this outlay, the Indian Army has been allocated ₹37,241 crore in 2023-24 against ₹32,015 last year. The Indian Navy has got ₹52,805 crore this year against the ₹47,590 it got in the 2022-23 fiscal. The Indian Air Force has been allocated ₹57,137 crore against the ₹55,586 crore it got in 2022-24.
However, it must be noted that in the revised estimates, the Army and Navy used more funds than they were originally allocated, while the Air Force spent ₹2,000 less than what it was given.
For revenue expenditure, ₹2.70 lakh crore has been allocated for 2023-24. It includes expenses on payment of salaries, maintenance of establishments, etc. This is an ₹41,000 crore from last year's allocation. The defence ministry said the allocation under this segment has doubled in two years since last fiscal year, which will boost border infrastructure and create strategically important assets, like the Se-la tunnel, and will also enhance border connectivity (in remote border areas).
It may also be noted that out of this ₹2.70 lakh crore, ₹4,266 crore is set aside for the Agnipath scheme, which includes ₹3,800 crore for Agniveers in the Army.
For the defence ministry's civilian expenses, including salaries and perks for bureaucrats and civilian staff, the government has earmarked ₹22.6 crore.
---