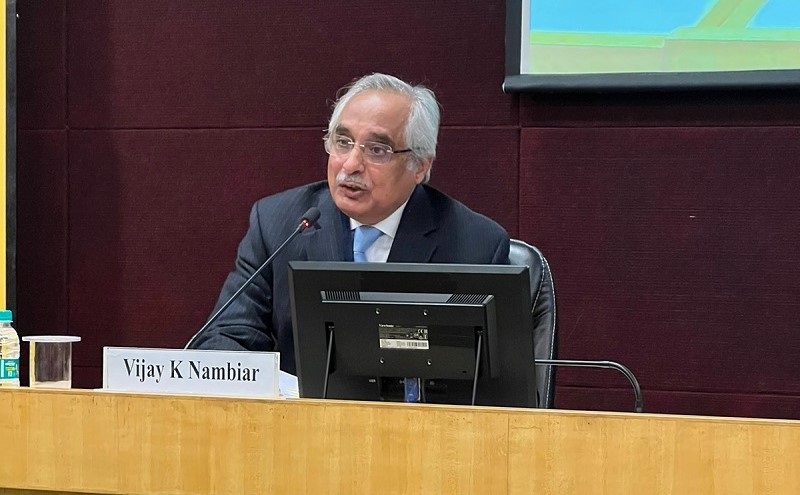 Amb Vijay K Nambiar (Photo: MP-IDSA)
New Delhi: Former diplomat and principal coordinator of India's G20 presidency, Vijay Nambiar has underlined the need to have a resilient United Nations for a strong and resilient global order.
While there is little doubt about the absolute indispensability of the UN, there is a need for the multilateral body to reform its basic structure to ensure greater balance and representation to become a true representative of the world, he observed.
He was speaking at the 14th South Asia Conference on "[email protected]: Towards a Resilient South Asia", organized by the Manohar Parrikar Institute for Defence Studies and Analyses (MP-IDSA).
Reflecting on India's claim to a permanent seat in the United Nations security council, Nambiar argued that India has been widely acknowledged as a rising power. Its commitment to democracy, climate change, human rights, etc, makes it a legitimate claimant for a rightful place on the high table in the UN security council.
Addressing the issue of development, Nambiar said that while the UN has largely succeeded in highlighting the problems of the least developed nations, it has not been able to address them because the UN has not been able to reform itself to reflect the reality of the changing global power architecture.
National Centre for Good Governance director general Bharat Lal sensitized the distinguished gathering about water security as a prerequisite for achieving social development goals and subsequently a high economic growth in the region.
"There is a need to improve the quality of life in India and South Asia by instituting better and efficient water management and water storage infrastructure, especially in flood prone areas, he added. While advocating the need for making the country open-defecation free, Lal said that sub-surface water can remain hygienic only if the surface stays clean.
Speaking about the "Jal Jeevan Mission" of the Union water ministry, Lal said that the initiative ensures that tap water reaches everyone.
Under the mission, approximately 56 per cent households have begun enjoying tap water supply, he pointed out.
This best practice can be emulated by the countries in the neighbourhood, he said.
T20 chair of G20 India and director general, MP-IDSA, Sujan R Chinoy said that India's G20 presidency is committed to working towards a resilient South Asia. India would continue to speak on behalf of the Global South, he added.
Reflecting upon the trust displayed by several South Asian Nations on India and their desire to support India in its G20 presidency, Chinoy said that India strongly believes that in its prosperity and growth lies the development and progress of the region and vice versa.
---