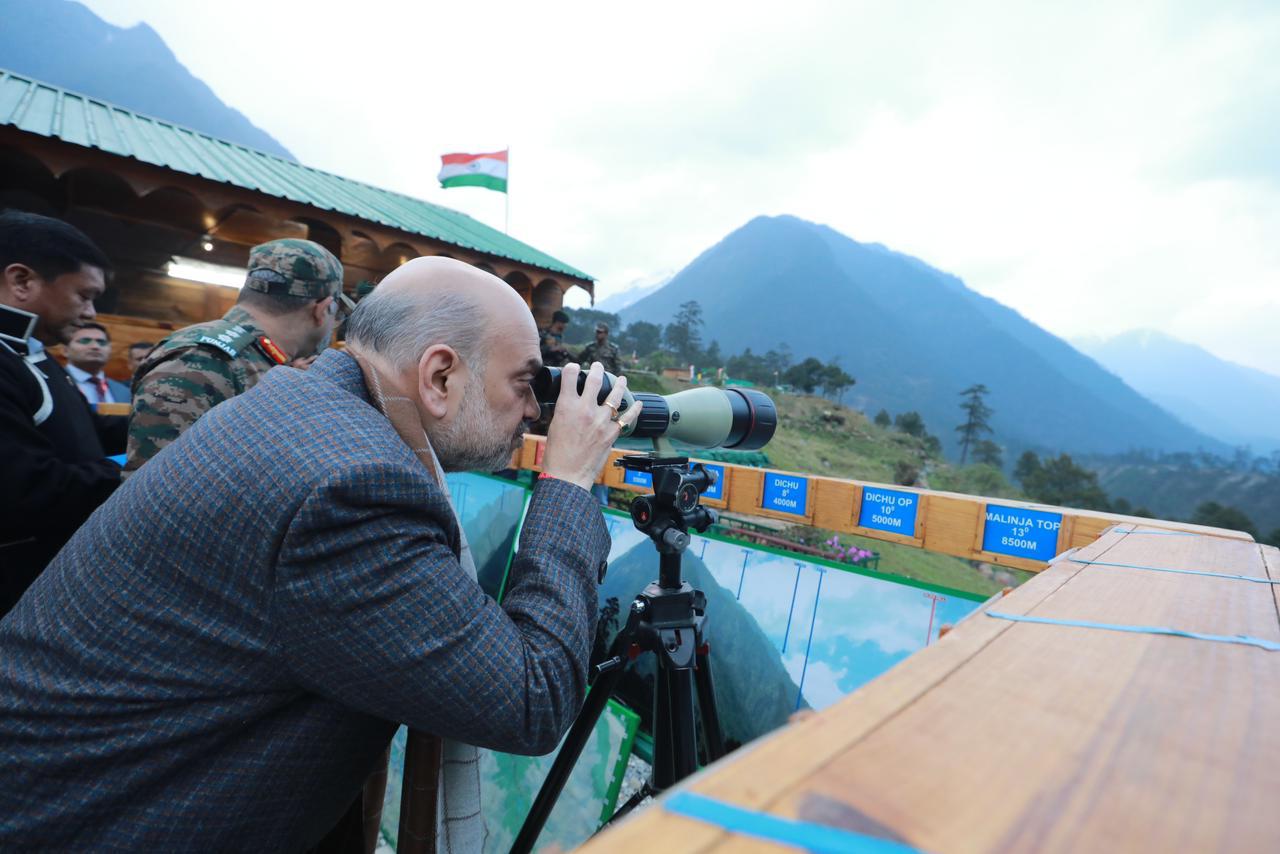 Amit Shah.
New Delhi: As China objected to his visit to Arunachal Pradesh, the Union home minister, Amit Shah, went ahead in launching the "Vibrant Villages" programme in the border village of Kibithoo in Arunachal Pradesh and used the occasion to deliver his message across the border by asserting that "nobody can encroach on even an inch" of India's borderlands.
Making it clear that the Narendra Modi government had accorded top priority to upgrade the border infrastructure, Shah reiterated integration of Arunachal Pradesh with India. He stated that the most eastern frontier location was the "first village of India" – not the "last" one.
The ambitious programme of "Vibrant Villages" envisages availability of basic amenities ,like water, electricity, cooking gas, digital and physical activity in remote areas. As many as 2,967 villages have been identified for development in 46 blocks of 19 districts along the border in Arunachal Pradesh, Sikkim, Uttarakhand, Ladakh, and Himachal Pradesh. Around 1.42 lakh people in 662 villages will be covered during the first phase of the scheme.
The home minister's visit came a few days after India strongly criticized Beijing's move to rename some places in Arunachal Pradesh. Predictably, the Chinese foreign ministry spokesman said Zangnan (China's name for Arunachal Pradesh) was part of China's territory and added that the visit was not conducive to peace and tranquillity in the border areas. India has always rejected such objections by China to visits by the country's leaders to Arunachal Pradesh. China's move to rename some 11 places in Arunachal Pradesh also came as the stand-off in eastern Ladakh border has continued since May 2020.
If it was Arunachal Pradesh this time, China's strongman Xi Jinping's visit to Moscow last month to meet his Russian counterpart Vladimir Putin amid the ongoing Russia-Ukraine war remained in focus. Closely before that, the Japanese prime minister, Fumio Kishida, had visited New Delhi with the emphasis being on Indo-Pacific and the Quad.
While the Chinese president's visit to Moscow underlined openly his country's solidarity and support to Russia, it also puts India in a delicate position so far as its ties with Russia amidst ongoing Ukraine war are concerned.
It is an open secret that China has expressed strong dislike and disapproval of initiatives, like Quad and Indo-Pacific, which it sees as the US's attempt to encircle it. China has also disliked India's involvement in such groupings and appears to be delivering the message that the US would not come to the rescue of India if the situation along the border witnesses escalation. Both India and China have witnessed border tensions along the disputed 4,000-kilometre border, particularly since Galwan clashes took place in mid-2020. Disengagement has not been completed on all points in eastern Ladakh despite several rounds of talks between the high ranking officials of the two countries, involving military commanders as well.
India's foreign minister, S Jaishankar, has said that there could be no normality in India-China relations until the situation in eastern Ladakh was resolved.
A look at China's policy of nibbling away at the border and its machinations through cartographic moves of renaming places in Arunachal Pradesh are only two elements of its overall strategy of trying to put pressure on India and puts the bilateral ties on the mat. On the border issue, it clearly looks that China is not interested in settlement but wants to maintain an uneasy calm and tension along the LAC (line of actual control) on selected points in different sectors.
The stand-off in border areas notwithstanding, for India to take on and match China on the economic front is also a huge challenge.
China's GDP is nearly $18 trillion, nearly five times that of India and its defence budget is also three times that of India. China has projected a growth rate of about five per cent, if India has to come up anywhere near it, it will need to grow at not less than 8 per cent, several policy analysts have pointed out.
---