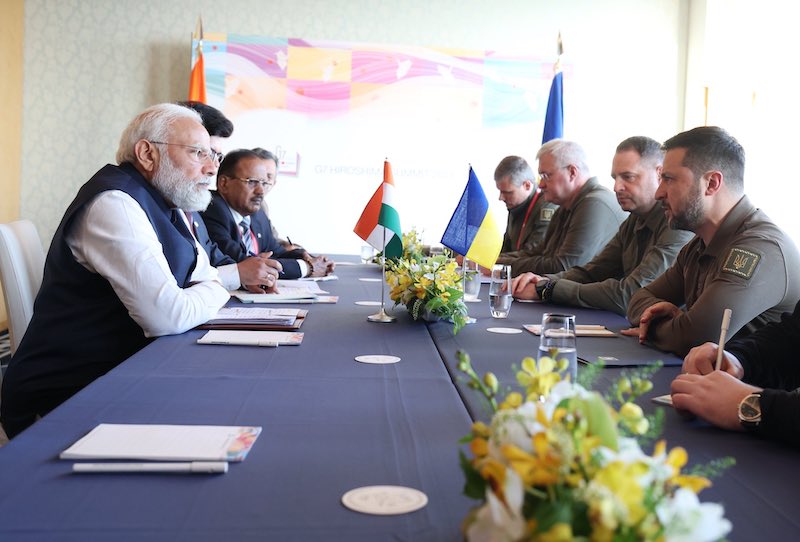 Narendra Modi (L) talking to Volodymyr Zelenskyy during their meeting in Hiroshima. (Photo: Twitter/@narendramodi)
New Delhi: The prime minister, Narendra Modi, met the Ukrainian president, Volodymyr Zelenskyy on the sidelines of the G7 leaders' summit at Hiroshima, on Saturday. During the meeting, Modi told Zelenskyy that India would do whatever it can to end the Russia-Ukraine war.
It was the first one-on-one meeting between the two leaders.
Speaking in Hindi from a written statement, Modi told Zelenskyy: "The war in Ukraine is a very big issue for the whole world. It has impacted the whole world in several ways. However, I don't see this as a political or economic issue. For me, this is an issue of humanity, an issue of human values."
The Indian prime minister then said: "You know more than any of us about the suffering war brought. However, when our students came back from Ukraine last year, I was able to understand the pain you and Ukrainian citizens felt from how they (the students) described the situation (in Ukraine)."
Modi then further added: "I wish to assure you that India and me, in my personal capacity, will do whatever is possible to find a solution to this [end the conflict]."
Met President @ZelenskyyUa in Hiroshima. Conveyed our clear support for dialogue and diplomacy to find a way forward. We will continue extending humanitarian assistance to the people of Ukraine. pic.twitter.com/1srbIIJUB3

— Narendra Modi (@narendramodi) May 20, 2023
Although India is not a G7 member, Japan invited India to the summit for a range of reasons, including the growing strategic and economic partnership with G7 countries.
It may be noted that in April, the Ukrainian president sent his first deputy foreign minister, Emine Dzhaparova, to New Delhi with a message for Modi, in which he urged India to play a greater role in ending the war. He also invited Modi to visit the Ukrainian capital, Kyiv.
Modi and Zelenskyy had telephonic conversations with each other a number of times since Russia launched a full-scale invasion of Ukraine. In September 2022, during a one-on-one meeting with the Russian president, Vladimir Putin, on the sidelines of the Shanghai Cooperation Organization summit in Samarkand, Uzbekistan, the prime minister told the Russian leader to cease hostilities. Speaking in diplomatic language, Modi told Putin that the era of wars has ended. He said, "I know that today's era is not an era of war, and I have spoken to you on the phone about this," while stressing that food, fertilizer, and fuel security were the current major concerns of the world that needed to be addressed first.
In his reply, Putin told Modi that although he understood the Indian prime minister's concerns, the attitude of the Ukrainian leadership was not helping matters. Putin said, "I know about your position on the conflict in Ukraine, and I know about your concerns. We want all of this to end as soon as possible. Unfortunately, the opposing side, the leadership of Ukraine, announced its abandonment of the negotiation process, and declared that it wants to achieve its goals by military means, as they say, 'on the battlefield.' Nevertheless, we will always keep you informed of what is happening there."
India has been walking a tightrope since the war began with the United States-led west imposing wide-ranging sanctions on Russia. India, however, ignored the sanctions and continued to buy oil from Russia, which Russia offered at a discounted price. Since then, Russia has become India's biggest oil supplier and India, in turn, has become the world's biggest exporter of refined oil.
---