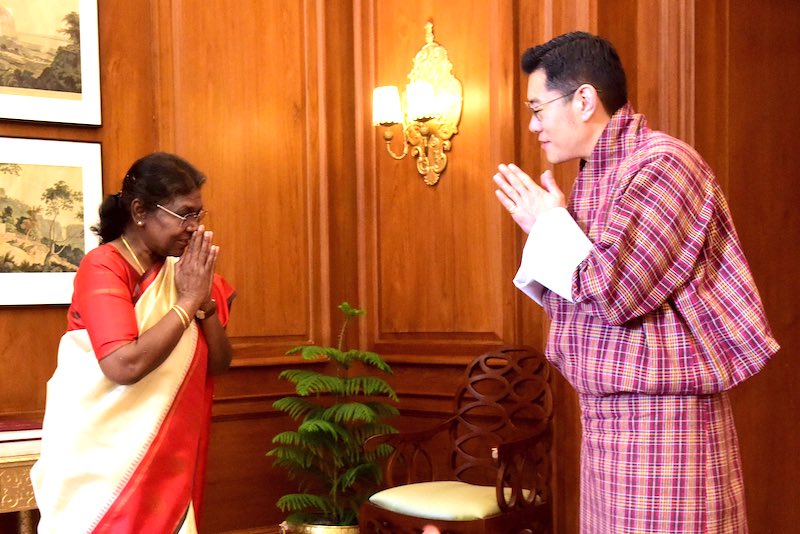 President Droupadi Murmu (L) with King Jigme Khesar Namgyel Wangchuk. (Photo: Rashtrapati Bhavan/Twitter)
New Delhi: Bhutan's King Jigme Khesar Namgyel Wangchuk has landed in the capital on a three-day visit to India, on Monday. The monarch is visiting the country on the invitation of President Droupadi Murmu.
The Bhutanese foreign minister, Dr Tandi Dorji, and other senior officials are accompanying Wangchuk.
In a statement, India's foreign ministry said: "The visit would provide an opportunity to both the sides to review the entire gamut of bilateral cooperation and to further advance the close bilateral partnership, including economic and development cooperation."
President Droupadi Murmu welcomed His Majesty the King of Bhutan, Jigme Khesar Namgyel Wangchuck at Rashtrapati Bhavan today. 🇮🇳🇧🇹 pic.twitter.com/DE1YbY5ixT

— President of India (@rashtrapatibhvn) April 4, 2023
Although India is touting this visit as a routine engagement event by the head of state of a friendly neighbouring country, it has generated a substantial amount of interest among geopolitical observers and analysts in the country and abroad. The Bhutanese king's visit comes at a time when bites are emanating from the kingdom's senior officials, including its prime minister, Lobgay Tsering, that Bhutan and China are closing in to strike a deal to settle their disputed borders.
This has alarmed some sections of the Indian establishment, media, and observers that a border deal between Thimphu and Beijing may endanger New Delhi's security interests.
It may be recalled that China offered Bhutan a "package deal" to settle the border dispute between the two countries, in which Beijing agreed to concede its northern claims with an area of 495 square kilometres in exchange for Bhutan conceding to China's western claims, including 89 square kilometres of the Doklam plateau. Since control over the Doklam plateau would make India's strategic Siliguri Corridor (also known as the Chicken's Neck) vulnerable to Chinese long-range artillery strikes, India stepped in and stopped Bhutan from inking such an agreement.
In 2017, to stop Chinese road-building activity near the India-Tibet-Bhutan trijunction at Doklam, Indian Army troops moved into Bhutanese territory where they engaged the Chinese troops in a 72-day stand-off before disengaging.
Indian troops could enter the area, which both Bhutan and China claims, "on behalf of Bhutan" by invoking the India-Bhutan treaty of 2007, Article 2 of which says: "In keeping with the abiding ties of close friendship and cooperation between Bhutan and India, the Government of the Kingdom of Bhutan and the Government of the Republic of India shall cooperate closely with each other on issues relating to their national interests. Neither government shall allow the use of its territory for activities harmful to the national security and interest of the other."
The situation has changed much since then. The number of pro-China voices in Bhutan's political circle has grown rapidly since the Doklam stand-off. The Bhutanese government is under significant pressure to resolve the territorial disputes with China.
Although Bhutan is no longer an absolute monarchy, the monarch enjoys immense popularity among his subjects and wields a significant clout in Bhutanese politics.
Since the Indian foreign minister, Dr S Jaishankar, and the national security advisor, Ajit Doval, met Wangchuk and held discussions, all eyes would be on Bhutan to see if the kingdom would continue to be sensitive to India's security concerns vis-à-vis China, especially at a time when the ties between New Delhi and Beijing are in an all-time low since 1962.
---