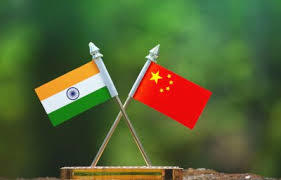 New Delhi: A day ahead of military-level talks between two neighbouring nations, India and China on Friday held diplomatic-level discussion and agreed to handle their differences through peaceful discussion bearing in mind the importance of respecting each other's sensitivities, concerns and aspirations and not allow them to become disputes.
Troops of India and China are engaged in the standoff for a month now in Pangong Tso, Galwan Valley, Demchok and Daulat Beg Oldie in Eastern Ladakh.
The situation in eastern Ladakh deteriorated after around 250 Chinese and Indian soldiers were engaged in a violent face-off on the evening of May 5 which spilled over to the next day before the two sides agreed to "disengage". However, the standoff continued.
Top army commanders of both the countries will meet on Saturday at Chushul-Moldo border personnel meeting (BPM) point on the Chinese side of the Line of Actual Control (LAC). The meeting will take place at around 9:30 am.
According to Ministry of External Affairs (MEA) release, from Indian side Joint Secretary (East Asia) in the ministry Naveen Srivastava while Director General in the Chinese Ministry of Foreign Affairs Wu Jianghao from Chinese side participated in the video conferencing and they reviewed the state of bilateral relations including the current developments.
In this context "they recalled the consensus reached by the leaders of the two countries, that peaceful, stable and balanced relations between India and China will be a positive factor for stability in the current global situation," the MEA said in a statement.
The two sides also exchanged views on the challenge posed by the Covid-19 pandemic and cooperation in various multilateral forums, it added.
Last time, the soldiers of India and China were engaged in a 73-day stand-off in Doklam tri-junction in 2017 which even triggered fears of a war between the two nuclear-armed neighbours.
The India-China border dispute covers the 3,488-km-long LAC. China claims Arunachal Pradesh as part of southern Tibet while India contests it.
---