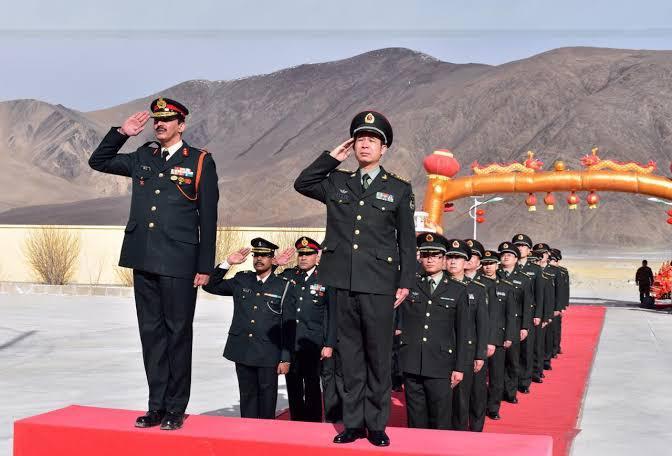 New Delhi: After about a month after a physical brawl between Indian and Chinese troops took place on the banks of Pangong Tso in Ladakh, senior officials from both sides have decided to meet over the tensions.
Lieutenant General rank officers from India and China will be meeting on Saturday, 6th June 2020 with an aim to diffuse heightened border tensions at the LAC (Line of Actual Control).
The Line of Actual Control between India and China passes through the Pangong Tso lake, though it's exact location is disputed, which often lead to face offs and stand offs in this area as both sides patrol here to assert their claims.
The standoffs have reported to have taken place in Pangong Tso in Ladakh on May 05 and Naku La in Sikkim on May 09. Since then Chinese are reported to have moved into Indian held territory with troops and equipment and also undertaken massive build up on their side forcing the Indian Army to make similar deployments.
Acknowledging the two incidents, Army Chief on May 14th stated, "There were two incidents at Eastern Ladakh and North Sikkim where aggressive behaviour by both sides resulted in minor injuries to troops post which both sides disengaged after dialogue and interaction at local level."
The first ever talk between Indian and Chinese Generals post the recent tensions, will focus on Eastern Ladakh and will be directed towards moving back to former positions.
"I think the success of the border meet will be dependent on how and when the PLA would restore the status quo ante at Pangong Tso. This will take some hard negotiating" says Lt. Gen D.S Hooda, Former Northern Army Commander.
The Indian Army delegation will be represented at that military meeting by Lieutenant General Harinder Singh, who is the commander of the Leh-based 14 Corps.
The talks will be held at the Chushul-Moldo border meeting point on the Chinese side.
According to reports, the meeting is expected to take place at 8 am with Lieutenant generals from both sides, including 10 Indian officials who will take part in the meet.
The proposed lieutenant general-level talks come after multiple rounds of military dialogue, held so far at various levels, all of which failed to achieve any breakthrough which makes this meeting a highly crucial one.
"It is an unprecedented meeting, the first of it's kind, and will facilitate resolution of the ongoing face off in Eastern Ladakh. The meeting will be candid, cordial and constructive, with both sides stating their respective positions and need to ensure peace and tranquility based on existing agreements." says former Director General Military Operations, Lt. Gen. Vinod Bhatia.
The northern banks of the Pangong Tso Lake spread out like a palm and the various protrusions are referred to as 'fingers'.
While India claims that the LAC starts at Finger 8, China claims that it starts at Finger 4, which is presently dominated by India.
Chinese troops have currently taken positions in large numbers at the Finger 4 area which India has always held.
While Defense Minister Rajnath Singh had earlier acknowledged the presence of Chinese troops in 'significant numbers' along the disputed LAC in the on going stand off, India has made it clear that no compromise will be made with regard to maintaining the sanctity of India's borders during the meeting.
The writer is a Delhi-based senior journalist, covering defence and strategic affairs. She can be contacted at @Palaksharmanews
---