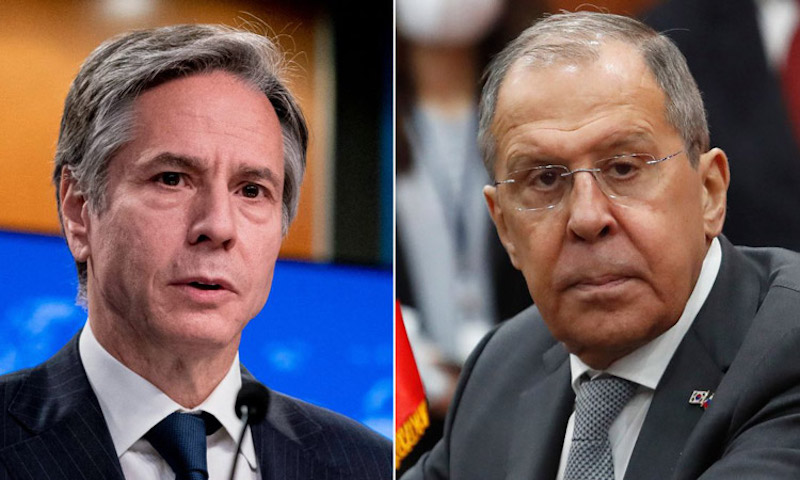 Antony Blinken (L) and Sergey Lavrov.
New Delhi: Amid heightened tensions and an all-time-low freeze in diplomatic ties after the Cold War between the United States and the Russian Federation, the top diplomats of both countries met briefly on the sidelines of the G20 foreign ministers' meeting in the city, on Thursday. The Russian foreign minister, Sergey Lavrov, and the US secretary of state, Antony Blinken, reportedly spoke for less than 10 minutes in their first one-on-one talk in person since Russia unleashed its military against Ukraine, in February 2022.
Later, at a news conference, Blinken said he told Lavrov that the US would continue to back Ukraine for "as long as it takes" and would push for the war to end through "diplomatic terms that Kyiv agrees to".
"End this war of aggression, engage in meaningful diplomacy that can produce a just and durable peace," Blinken said.
---
Read also: Ukraine war kills G20 unity, India says 'considerable meeting of minds'
---
However, the US secretary of state didn't sound very optimistic about his words having any effect on Russia. He said, "President Putin, has demonstrated zero interest in engaging, saying there is nothing to even talk about until Ukraine accepts the new territorial reality."
Blinken also urged Moscow to release detained former US marine Paul Nicholas Whelan, who was detained in Russia, in December 2018, over alleged spying. The secretary of state said the United States has put forward a "serious proposal", which Russia "should take".
It may be noted that Russia released American basketball star Brittney Griner last December after being charged and convicted of drug possession in exchange for convicted arms dealer Viktor Bout. Griner, 32, spent 10 months in Russian detention and a prison. She was sentenced to nine years of rigorous imprisonment. Bout, 56, was serving a 25-year-sentence in an American jail. He was arrested in 2008, in Thailand.
---
Read also: At G20 foreign ministers' meet, Modi says multilateralism is in crisis
---
Talking to the media about the conversation, a senior US official said Blinken urged his Russian counterpart to reverse Moscow's recent decision to suspend the New START (Strategic Arms Reduction Treaty), which is aimed to reduce the number of strategic nuclear weapons by Russia and the US. Last week, the Russian president, Vladimir Putin, suspended the treaty over Washington's increased involvement in the Ukraine war, which included supplying Kyiv with deadlier and more modern weapons, including tanks.
According to the official, Blinken told Lavrov that mutual compliance of the New START was in the interest of both Russia and the US.
On his part, Lavrov didn't mention about his chat with Blinken during his news conference, which he held later in the day.
---