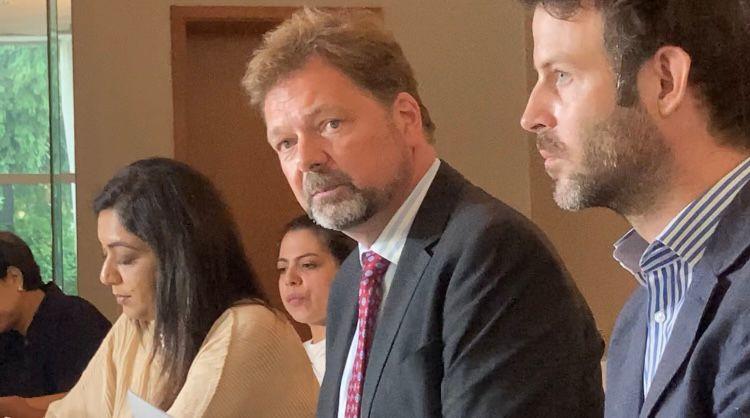 Philipp Ackermann (centre), Germany's ambassador to India, during the news conference in New Delhi, on August 30, 2022.
New Delhi: Germany's ambassador to India Philipp Ackermann termed China's claim of Arunachal Pradesh as its own territory as "outrageous", on Tuesday. He also said Chinese troops' transgressions along the line of actual control (LAC) are a violation of the international order.
Talking to reporters in his first news conference at New Delhi, Ackermann said, "China claims of Arunachal Pradesh as its integral part, is 'outrageous'. So, I think that the infringement at the border is extremely difficult, and it should not be accepted."
This comes at a time when Indian and Chinese troops are engaged in a tense stand-off at several locations near the LAC in eastern Ladakh after Chinese troops crossed into the Indian territory in May 2020. In June that year, Indian and Chinese troops engaged in a deadly brawl with fists, rods, stones, clubs, etc, but without using firearms, in which 20 Indian soldiers were killed. China officially said it lost four soldiers, although the claim is disputed by many experts.
Ackermann also drew a line in the context of the Russia-Ukraine conflict and India-China border stand-off. He said what is happening at the border with China has nothing to do with what happen is happening in Ukraine. "China doesn't hold 20 percent of Indian territory, it's not systematically destroying every village, every town in the area," Ackermann said.
China controls around 1,000 square kilometres of territory that India claims as its own. Several rounds of high-level of military talks have been held between the two countries to restore the status quo as it was in May 2020, but China continues to drag the matter
Ackermann also called it an "Indian problem" and said, "You have it at your northern border. That's something you have been experiencing every couple of years. So, I think when we talk with the Indian side, there is an understanding that the international order should be held up and preserved." He then added, "We might not agree on every line when it comes to Ukraine, but I want to state the first impression I have of Indian colleagues. The Ukraine problem has manifold impacts on the world. The Indian side very well recognizes this violation of international order."
The German ambassador also said New Delhi should understand Europe's outrage over Russia's invasion of Ukraine. He also compared Russia's war on Ukraine to his own country's (Germany) invasion of Poland during World War II in 1939 and said: "I have never seen such aggression in the last 70 years."
It may be noted that last week, India – for the first time – voted against Russia during a "procedural vote" at the United Nations security council on Ukraine. Before this, New Delhi had decided to abstain from voting on Russia's Ukraine invasion, which Moscow calls as "special military operation". This had irked Europe and the United States. Appreciating India's vote against Russia, Ackermann termed it as a "progress on New Delhi's part.
China reacts to envoy's remarks
Reacting to the German ambassador's remarks on the India-China border dispute, the Chinese embassy in New Delhi released a statement, on Wednesday. It said Ackermann's comments, on Tuesday, were regrettable. It said the boundary question between China and India is a "historical burden left by colonists". The statement also said Ackermann's "irresponsible remarks went too far".
Further, it added: "The boundary question should be handled by China and India bilaterally. This is the consensus of the two sides. There's no space for any third party to intervene or make unwarranted comments or pick sides."
---