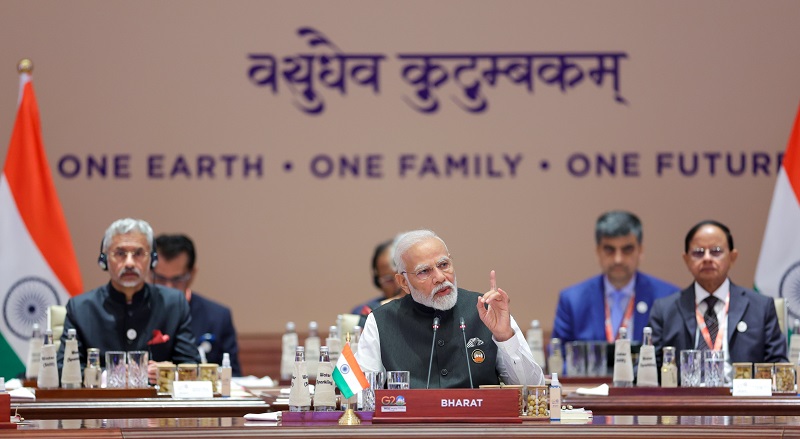 PM Narendra Modi with foreign minister S Jaishankar at G20 Summit (PC: X/G20)
New Delhi: Amidst the heightened tension between the West and the East over Russia-Ukraine war, India achieved a significant milestone under its G20 Presidency with the prime minister, Narendra Modi announcing the adoption of the New Delhi Leaders' Declaration during the two-day Summit in the national capital.
The declaration noted with deep concern the immense human suffering and the adverse impact of wars and conflicts around the world.
The G20 leaders called for "comprehensive, just, and durable peace in Ukraine" and urged member states to "refrain from the threat of use of force to seek territorial acquisition" or act against the territorial integrity of any state.
The declaration also stressed that the use, or threat of use, of nuclear weapons to be "inadmissible".
It also found mentioning of the prime minister's Mission LiFE (Lifestyle for Environment), a global plan of action that aims to save the planet from the disastrous consequences of climate change.
"We will urgently accelerate our actions to address development and climate challenges, promote Lifestyles for Sustainable Development (LiFE), and conserve biodiversity, forests and oceans," it read.
---
Read the full text of G20 New Delhi Leaders' Declaration:-
---
"I have just got some good news right now," Mr. Modi said to the leaders gathered. "Due to the hard work of our team and your support, we have achieved consensus on the New Delhi G-20 Leaders' Summit Declaration. I propose we adopt this Leaders' declaration," he added.
The declaration adopted a day before the Summit ended.
When asked at a press conference by the G20 Presidency, both External Affairs Minister S. Jaishankar and India's G-20 Sherpa said that the consensus had come about due to the stand taken by Indonesia, India, Brazil and South Africa, consecutive hosts of the G20.
"Eventually everybody helped, but the emerging markets took a lead on this and we have a strong history of working together," said Mr. Jaishankar, possibly referring to the earlier membership of all four countries in the Non-Aligned Movement.
"Bear in mind that there are four developing countries who are Presidents of the G20 in succession," he added.
Mr. Kant said the negotiations that followed were "very tough and very ruthless" and the issue was clinched due to Prime Minister Modi's determination for a joint statement.
---