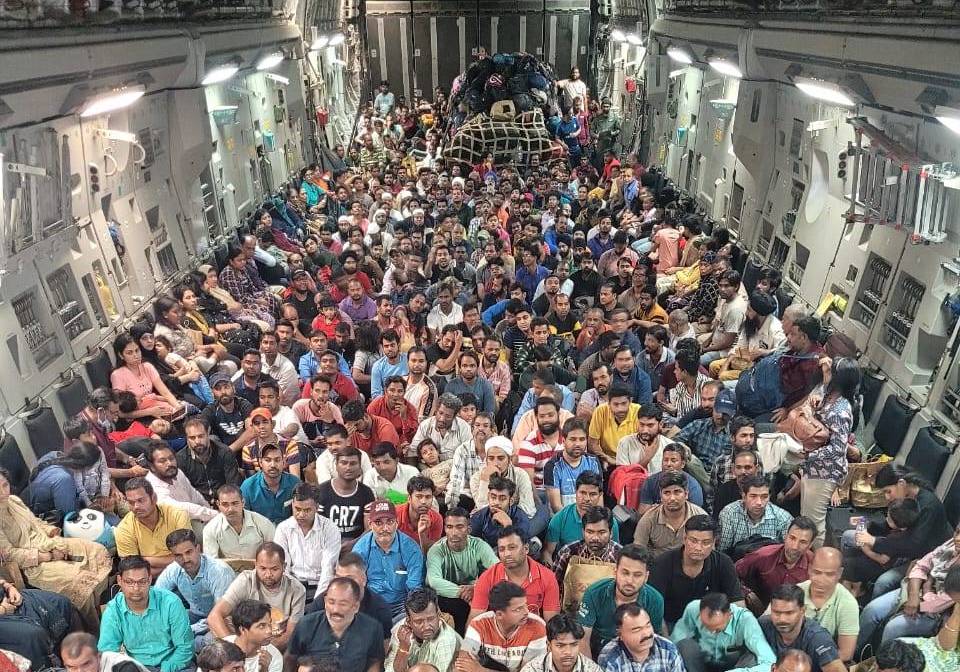 Indian nationals being evacuated from Sudan in an Indian Air Force aircraft. (Photo: IAF)
New Delhi/Bengaluru: India has evacuated over 2,300 nationals and some others from foreign countries from the civil war-hit Sudan, as of Sunday. India's evacuation mission, which is codenamed "Operation Kaveri", involves all three services of the Indian armed forces – Army, Navy, and Air Force, who are working in coordination with the foreign ministry. Some private airlines are also involved in the operation.
India started Operation Kaveri on April 24 after clashes broke out between the General Mohamed Hamdan Dagalo-led paramilitary Rapid Support Force and the General Abdel Fattah al-Burhan-led Sudanese military. The clashes threw life of ordinary Sudanese residents along with foreigners in the country off gear. According to latest reports, over 500 people have been killed in the conflict, so far.
The Indian Air Force pressed its C-17 Globemaster III strategic heavy-lift aircraft and C-130J Hercules transport aircraft for the operation. It has carried out several airlifting sorties from the country and evacuated hundreds of stranded Indians and dropped most of them to Saudi Arabia's Jeddah to safety, to speed up its evacuation efforts in Sudan.
17th batch of Indian evacuees departs from Port Sudan onboard IAF C-130J flight.

135 passengers are heading to Jeddah. #OperationKaveri pic.twitter.com/6wDlDY8tQr

— Arindam Bagchi (@MEAIndia) May 1, 2023
In its part, the Indian Navy deployed three warships for evacuating its nationals from Sudan. The first ship to be dispatched to Sudan for Operation Kaveri was INS Sumedha, a Saryu-class patrol vessel. The second ship was INS Teg, a Talwar-class frigate. The third Navy vessel to join the operation is INS Tarkash, which is another Talwar-class frigate.
Tenth batch of 326 Indian evacuees from Sudan reached Jeddah by INS TARKASH.

Happy to receive them. They will be sent back to India soon.#OperationKaveri pic.twitter.com/4mzx6PrVVz

— V. Muraleedharan (@MOS_MEA) April 28, 2023
The Indian Army too joined Operation Kaveri. The Army sent is elite special forces from 3 Para SF to provide security to the nationals during evacuation and the officials overseeing the evacuation operations.
3 Para SF deployed in Sudan for extraction of High Value Assets via port of sudan. pic.twitter.com/j2ny0VM6Xn

— Kalashnikov Operator (@KalashnikovOpe1) April 30, 2023
Civil airlines IndiGo and SpiceJet also joined Operation Kaveri by airlifting Indian nationals from Jeddah to India. IndiGo was the first to join the operation. According to latest reports, together, they have brought back around 2,000 nationals to the country.
Welcome back to the motherland! Spreading a million smiles. #OperationKaveri #goIndiGo #IndiaByIndiGo @MoCA_GoI @JM_Scindia pic.twitter.com/JSI9CuzgwG

— IndiGo (@IndiGo6E) April 30, 2023
The evacuation operation is still ongoing.
IAF in daring rescue
Operation Kaveri saw some daring efforts by the Indian armed forces, especially the Indian Air Force. In a particular operation worth mentioning, Group Captain Ravi Nanda, commanding a C-130 J Hercules, carried out a daring rescue on the night of April 27-28 from a small airstrip in Wadi Sayidna near the Sudanese capital, Khartoum.
According to reports, Gp Capt Nanda landed his plane on the small airstrip in pitch darkness wearing night-vision goggles while fighting was going on around him and took off 121 Indians to Jeddah, where the flight landed safely.
Group Captain Ravi Nanda flew the daring Sortie to Sudan In Pitched Darkness with Garud Special Forces On Board.
The Officer has earlier also done daring rescue operations in Afghanistan.More Power to Him and His Team.
Jai Hind.🇮🇳#operationkaveri #OperationKaveri #Sudan pic.twitter.com/OVQj7DQpkz

— Brigadier Hardeep Singh Sohi,Shaurya Chakra (@Hardisohi) April 29, 2023
Gp Capt Nanda was already known for his bravery. In 2021, he undertook a mission to evacuate Indians from the middle of the war when the Taliban took over Kabul. During that operation too, he used night-vision goggles to land his plane in the dark. At that time, he rescued 87 Indian nationals and flew them to safety in Dushanbe, the capital of Tajikistan.
For his exceptional display of bravery in Kabul, Gp Capt Nanda was awarded the Vayu Sena Medal.
---