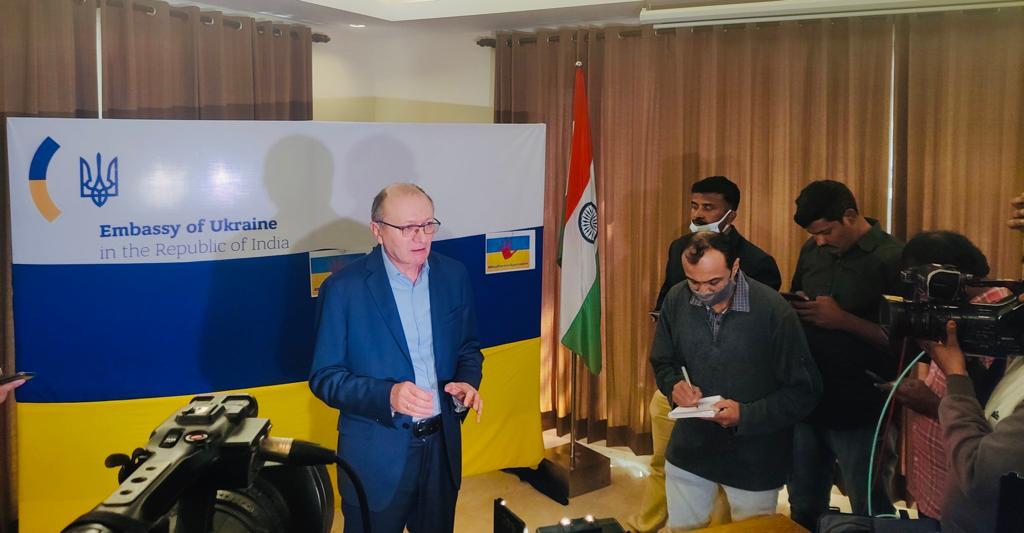 NEW DELHI: Ukraine on Thursday sought India's support in its fight against the Russian forces.
Ukrainian ambassador Dr Igor Polikha appealed to Indian Prime Minister Narendra Modi, saying, "I don't know how many world leaders Putin may listen to but the status of Modi ji makes me hopeful. In case of his strong voice, Putin at least should think over. We are expecting for much more favorable attitude of the Indian government."
Dr Polikha said, "At the present moment, we are asking and pleading for support of India. In this case of an aggression by a totalitarian regime against democratic state, India should fully assume its global role. Modi ji is one of the most powerful and respected leaders in the world," he added.
"India should be more actively engaged," said Dr Polikha, mentioning the privileged relations between India and Russia, he said , "not just for our safety but of your own citizen's safety too, we need India's intervention," he added referring to the 15,000 plus Indians currently living in Ukraine as the Indian government is trying to evacuate them.
Dr Polikha also referred to India's history and mythology to trace its role in diplomacy and the non-alignment movement.
He said, "I am dealing with India from my young student years and I know a lot about Indian history of diplomacy." "You had such bright guys.., instance – Chanakya, or Kautilya, approximately 2500 years back when on the major parts of Europe, there was no civilization," Dr Polikha said during his emotional speech in New Delhi.
It is important to mention here that , India called for a complete de-escalation between Russia and Ukraine at the United Nations Security Council meet that was convened as Putin's forces targeted military command centres in Ukrainian capital Kyiv and Kharkiv.
Moreover, Russia on Wednesday hailed India's approach in the ongoing Ukrainian crisis. "We welcome the independent position India has taken in the UN Security Council twice already [and] which was expressed openly by the Indian external affairs minister and other officials," Russian chargé d'affaires Roman Babushkin had said.
---