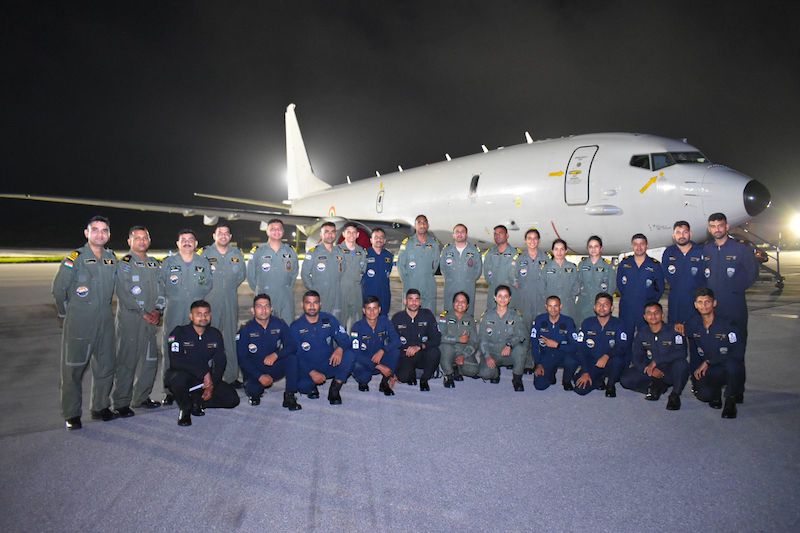 The Indian Navy team participating in "Exercise Sea Dragon – 2023" with the Boeing P8I Poseidon aircraft. (Photo: Indian Navy)
New Delhi: An Indian Navy's Boeing P8I Poseidon aircraft arrived at Guam, the North Pacific US territory of Guam, on Tuesday, to take part in the "Exercise Sea Dragon – 2023". This is the third edition of the coordinated multilateral anti-submarine warfare (ASW) exercise for the long-range maritime reconnaissance ASW aircraft, conducted by the United States Navy.
The two-week exercise, which started on Wednesday and will conclude on March 30, would emphasize on coordinated anti-submarine warfare among the participating countries, the Navy said in a media release. The complexity and scope of these exercises has increased steadily over the past years to include advanced ASW drills, the release said.
Exercise Sea Dragon – 2023 will test the capabilities of participating aircraft in tracking simulated and live underwater targets, while also sharing mutual expertise between the participating nations' navies. Apart from the Indian Navy's P8I, a P8A of the US Navy, a P1 from the Japanese Maritime Self-Defence Force, a CP 140 from the Royal Canadian Air Force, and a P3C from the Republic of Korea Navy would be participating in the high-tech and specialized maritime warfare drill.
The objective of the exercise is to achieve high levels of synergy and coordination between the friendly navies, which is based on their shared values and commitment to an open, inclusive Indo-Pacific, the Navy said.
---