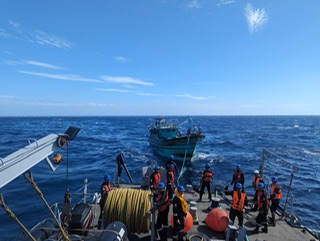 Vizag: Indian Naval Ship Khanjar, Mission Deployed in the Bay of Bengal, has safely brought back 36 Indian fishermen who were stranded 130 nautical miles from the Tamil Nadu coast.
The fishermen were onboard three fishing vessels, which were towed by INS Khanjar for more than 30 hours in challenging sea conditions.
INS Khanjar on an operational deployment in the Bay of Bengal detected three fishing Vessels Sabarainathan, Kalaivani and V Sami approximately 130 nm from the Tamil Nadu Coast.
The vessels with 36 fishermen onboard were from Nagapattinam, Tamil Nadu.
They had been stranded at sea for over two days due to rough weather conditions, without fuel, provisions and engine breakdown.
The ship supplied the Fishing Vessels with the necessary provisions and towed them for over 30 hours, ensuring their safe return to Chennai harbour
---