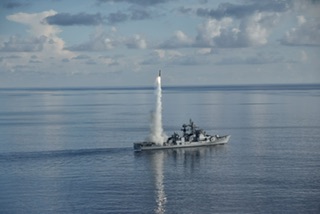 Visakhapatnam: Indian Navy on Wednesday successfully fired a supersonic cruise BrahMos missile from its destroyer in the Bay of Bengal.
During the test-firing, all the objectives and parameters were achieved.
The missile successfully destroyed its target with pinpoint precision.
The Navy posted on the social media platform X (formerly Twitter), stating, "An Indian Navy destroyer of the eastern fleet carried out the successful firing of a BrahMos missile in the Bay of Bengal. The missile achieved all mission objectives."
Within a month, two BrahMos tests were conducted.
Just a fortnight ago, (18 October), Indian Air Force (IAF) Sukhoi Su-30 MKI jets flew from Thanjavur Air Base in Tamil Nadu, covering a distance of 1,500 kilometres and launched a BrahMos-A missile (BrahMos's air-launched variant), successfully destroying its target in the Bay of Bengal.
Supersonic cruise missiles
As per a top official of BrahMos Aerospace Pvt Ltd, the India-Russian joint venture produces supersonic cruise missiles that can be launched from submarines, ships, aircraft, or land platforms with a speed of 2.8 Mach or almost three times the speed of sound.
It should be noted here that India is also exporting BrahMos missiles to a few countries like the Philippines and others.
Notably, the Indian Navy also tested their Extended range capacity.
---