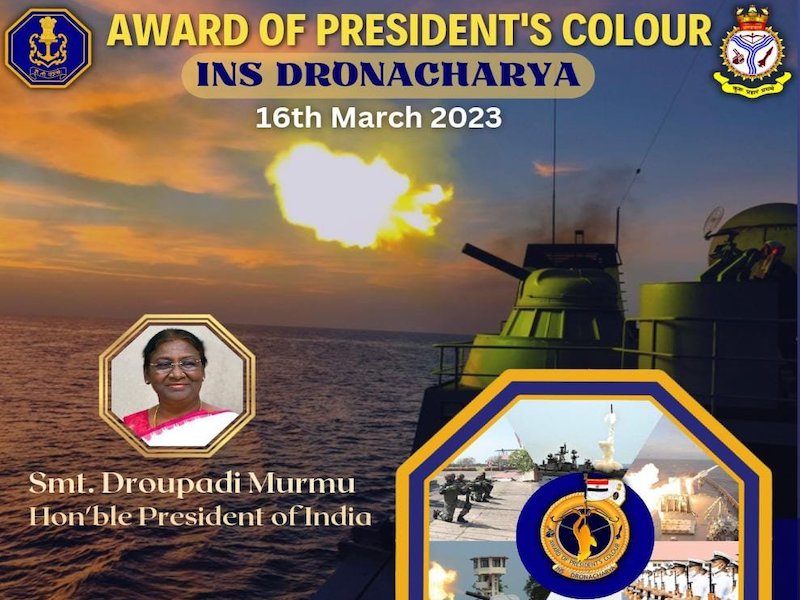 New Delhi: The Indian Navy's Kochi-based gunnery school, INS Dronacharya, will be awarded the prestigious President's Colour by the president, Droupadi Murmu, on Thursday, the Navy said in a media release. The President's Colour or the "Nishan" is considered the highest honour that the President of India, who is the supreme commander of the country's armed forces, bestows upon a unit for its exceptional service to the nation.
INS Dronacharya trains officers and sailors of the Navy, Indian Coast Guard, and friendly foreign maritime forces on all aspects of gunnery and missile warfare. The gunnery school forges sea warriors and equips them with the professional acumen and unyielding spirit to man powerful warships.
INS Dronacharya is also the nodal centre for training of the Navy's Sagar Prahari Bal (ocean sentinel force) unit, which was formed in 2009 and is entrusted with the responsibility of patrolling India's coastal waters. It is also the Navy's centre for training in constabulary operations for several Indian Ocean Region nations.
The unit is also the training authority for drill and ceremonials in the Navy and Coast Guard.
INS Dronacharya was designated as the Centre for Excellence in Gunnery and Missile Warfare in 2004. The unit is affiliated with the Indian Army School of Artillery in the spirit of jointmanship. The alumni of the institution have distinguished themselves in war and peace through exemplary acts of courage, unwavering commitment, and impeccable professionalism. The alumni include one Maha Vir Chakra, Kirti Chakra and Yudh Seva Medal, five Veer Chakra and seven Shaurya Chakra awardees.
The ceremonial parade for the presentation of colours would be held at 4.20pm at Kochi and reviewed by the president. The other dignitaries present on the occasion would be the governor of Kerala, chief minister of Kerala, the chief of the naval staff, flag officer commanding in chief of Southern Naval Command and other senior service and civilian officials.
The event will be broadcasted live on DD National and livestreamed on the Indian Navy's official YouTube channel.
---