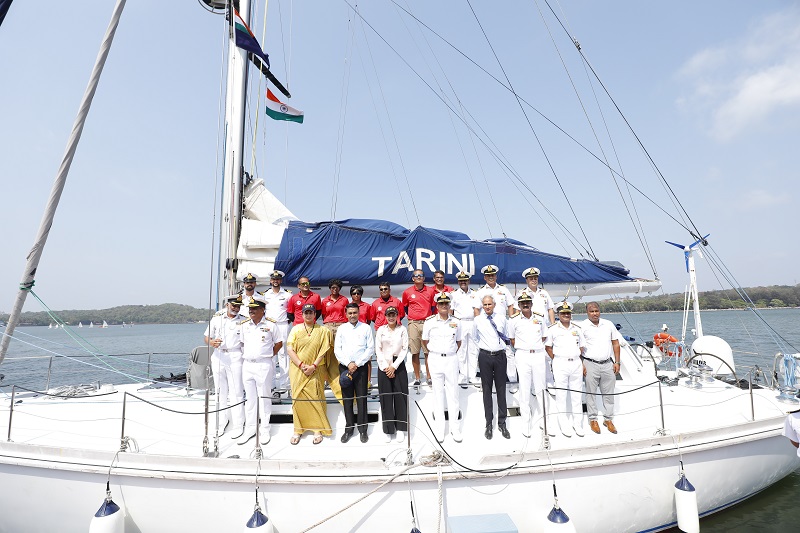 INSV Tarini crew members with Smriti Irani, Pramod Sawant and Adm Hari Kumar
Panaji: In yet another historic event in the maritime calendar of India, INSV Tarini touched the Indian shores as she entered Goa harbour and secured alongside the INS Mandovi jetty on successful completion of a 17,000nm trans-ocean intercontinental voyage, after 188 days.
The six-member crew was received at the jetty by Pramod Sawant, chief minister of Goa, Smriti Irani, Union minister for women and child development and Admiral R Hari Kumar, chief of the naval staff.
Vice Admiral MA Hampiholi, flag officer commanding in chief, Southern Naval Command, Rani Rampal, former captain of the Indian women's hockey team, and a host of senior naval officers, enthusiastic members of the naval community and civilian dignitaries were also present.
The 'flag in' ceremony commenced with a magnificent display of yachting skills by young and promising yachtsman of the Navy Boys Sports Company.
This was followed by a marvellous flypast by versatile naval aviation platforms such as the Chetak, Kamov-31, Hawks, Il-38, Dornier, and MiG-29K aircraft.
Speaking on the occasion, Pramod Sawant complimented the exemplary display of valour, courage and perseverance by the crew and highlighted the Indian Navy's role as a pioneer in the country in ocean sailing, as exemplified by the international accolades received by Captain Dilip Donde (Retd), Commander Abhilash Tomy (Retd) and the Navika Sagar Parikrama team of six women naval officers, a true display of Nari Shakti.
Appreciating the arduous expedition of the Tarini crew, more so by two women officers, Lt Cdr Dilna K and Lt Cdr Roopa A who were part of the entire 188 days and 17,000nm of sailing, Smriti Irani stated that such achievements should be recorded for posterity and shared with the entire nation to encourage and motivate young boys and girls to not only join the armed forces, but also serve the nation with pride and honour.
Welcome home INSV Tarini ! A day to celebrate the homecoming of a team that endured a 6 month trans-oceanic voyage covering 17000 nm . Was indeed a proud privilege to felicitate Lt. Cdr Dilna & Lt. Cdr Roopa ; 2 Naval women who will soon attempt circumnavigation of the Globe. pic.twitter.com/WJE4qSv6N4

— Smriti Z Irani (@smritiirani) May 23, 2023
Admiral R Hari Kumar congratulated the crew on its successful completion of a challenging endeavour.
The achievement of crew in navigating through adverse weather conditions and undertaking inhouse repairs whenever needed are shining examples of innovation and ingenuity that our countrymen possess, he added.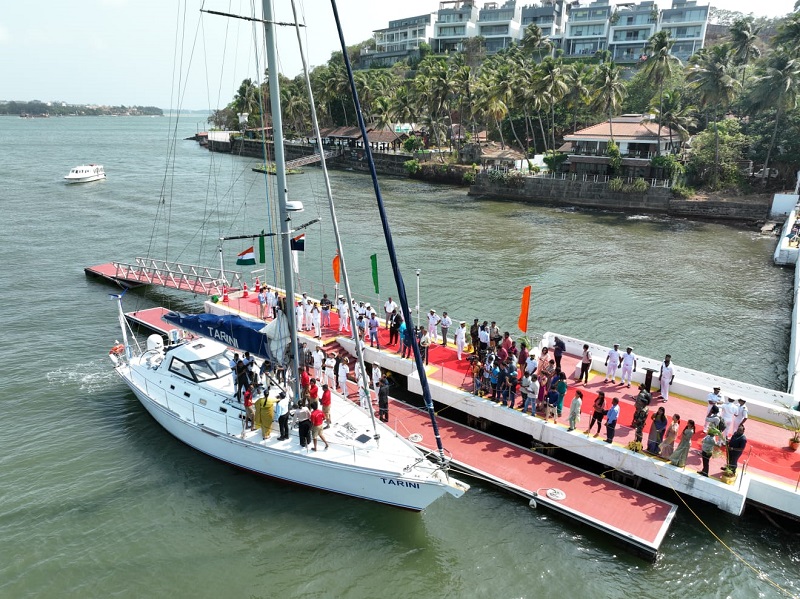 INSV Tarini at Goa
He also emphasized that this voyage towards women empowerment is not an end, but the start of a new phase of providing an ocean of opportunities to female sailors to conquer the seven seas.
Attended and addressed the Flag In ceremony of the #INSVTarini in the presence of Union Minister for Women & Child Development Smt. @smritiirani ji, Chief of Naval Staff Admiral R Hari Kumar and others.

The courage and determination displayed by the crew of INSV Tarini… pic.twitter.com/00CkwSIZKM

— Dr. Pramod Sawant (@DrPramodPSawant) May 23, 2023
Golden Globe Race
The Indian Navy has embarked on a mission to circumnavigate the globe to promote ocean sailing in a big way. Captain Dilip Donde was the first Indian to circumnavigate the globe in 2009-2010. Subsequently, Commander Abhilash Tomy was the first Asian skipper to participate in two circumnavigations.
Recently during Golden Globe Race 2022, GGR, an east bound non-stop circumnavigation race starting and finishing in Les Sables d' Olonne France and which bars participants from using modern cutting-edge navigational equipment, Cdr Abhilash Tomy (retd) accomplished the rare feat of getting a podium finish completing the gruelling course in second position.
The Navika Sagar Parikrama by six women naval officers increased the popularity of ocean sailing within the navy and the country further.
The current sailing expedition of INSV Tarini is part of the run up towards the Navy's next big project to send a woman to circumnavigate the globe solo.
The officers that participated in this expedition were shortlisted from volunteers after rigorous selection at the Ocean Sailing Node (OSN) which was established on August 24, 2016 with the aim of promoting and undertaking ocean sailing activities and is located at INS Mandovi.
This expedition was conducted under the aegis of Indian Naval Sailing Association (INSA) based at New Delhi.
---