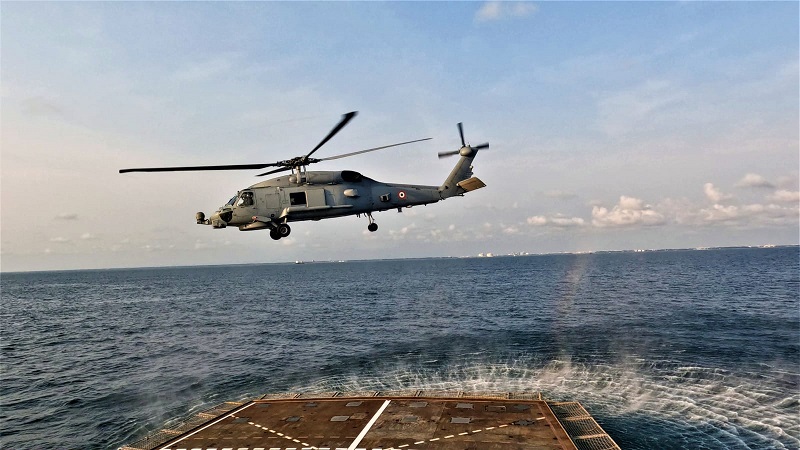 MH-60R chopper landing on INS Kolkata (PC: Indian Navy)
Vizag: Indian Navy's versatile chopper MH-60R "Romeo" conducted maiden landings on the indigenously designed and constructed destroyer, INS Kolkata that will bolster the force's capability to counter underwater threats, monitor naval activities and conduct surveillance operations.
With its induction into the force, it will further enhance the navy's anti-submarine warfare capability.
The "Romeo" chopper is known for its exceptional anti-submarine warfare, surveillance, anti-shipping, and search and rescue capabilities.
The choppers are expected to be the mainstay of the navy's anti-submarine warfare, anti-ship warfare and airborne early-warning capabilities in the coming decades.
Three years back, India signed agreement to buy 24 Lockheed Martin-Sikorsky MH-60R helicopters from the United States worth USD 2.6 billion. The choppers are modified with several India specific equipment and weapons.
In 2021, the Indian Navy had received three MH-60R choppers at Kochi. Other two were received in the US.
Remaining 20 Romeo choppers will be delivered to the navy in next two years.
A significant milestone for the #IndianNavy - MH60R helicopter undertakes maiden landings on the indigenously designed & constructed destroyer, #INSKolkata. This is a major boost to the Indian Navy's Anti-Submarine Warfare capability.@SpokespersonMoD@DefenceMinIndia pic.twitter.com/cJQaFrEHnJ

— SpokespersonNavy (@indiannavy) May 19, 2023
The twin-engine choppers are being fitted with AGM-114 Hellfire missiles, MK 54 torpedoes, and advanced precision weapons and can operate from Indian Navy's frigates, destroyers, and aircraft carriers.
The navy first moved a case to buy multi-role helicopters, a critical operational necessity, more than 17 years ago.
---