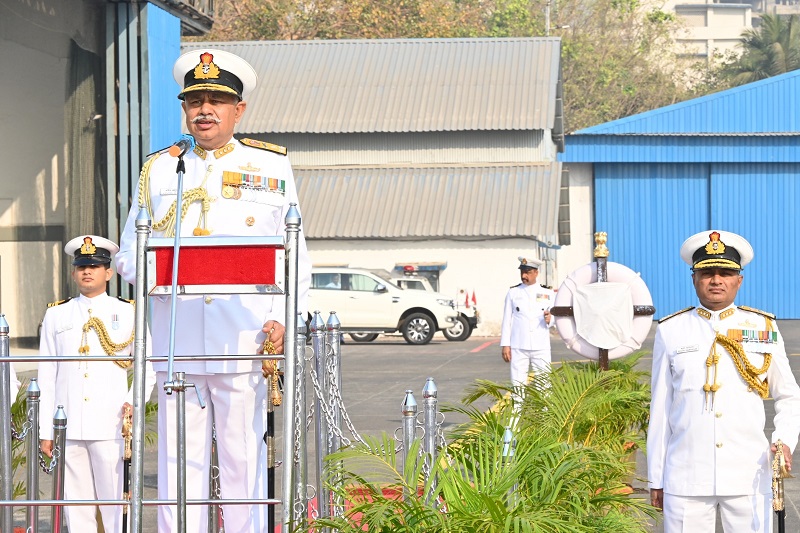 Vice Admiral AB Singh
Mumbai: An alumnus of the UP Sainik School Lucknow and the prestigious National Defence Academy, Vice Admiral Ajendra Bahadur Singh retired from active service on February 28, after an illustrious career of over four decades in the white uniform.
He has been conferred with the Vishisht Seva Medal in 2011, Ati Vishisht Seva Medal in 2016 and Param Vishisht Seva Medal in 2022, for his exemplary service to the nation.
He was the Flag Officer Commanding-in-Chief, Western Naval Command since Dec 21.
During his tenure as the Commander-in-Chief, the Command saw a high tempo of operations with ships, submarines and aircraft being deployed for extended/ long range deployments and an array of successful weapon firings.
The last 15 months also saw a bouquet of multinational engagements ranging from port visits to multilateral exercises with various navies.
The period also saw commissioning of stealth destroyer INS Mormugao, submarine Vagir and Air Squadron INAS 316 at Goa.
Further, ships Surat and Udaygiri as well as submarine Vagsheer were launched and will soon join the Indian Navy.
His career spanning 4 decades includes varied operational training and senior leadership roles in the maritime domain.
He served on a large number of operational naval ships and participated in Operation PAWAN (Sri Lanka), and Operation PARAKRAM as the Fleet Navigating Officer of the Western Fleet based at Mumbai.
He had the opportunity to be in Command on 7 occasions including four frontline operational ships based at Mumbai. These include Indian Naval Ships Veer (Missile Vessel), Vindhyagiri (Frigate), Trishul (Guided Missile Frigate) and Viraat (Aircraft Carrier).
He has also been an instructor at the National Defence Academy at Pune, Navigation & Direction School at Kochi, and Directing Staff at Defence Services Staff College at Wellington.
The Flag Officer received his first Masters from Madras University during the Staff Course at Defence Services Staff College, Wellington, wherein he was also awarded the Scudder Medal for academic excellence.
He has also earned another Master's Degree in Global Security from Cranfield University, United Kingdom in 2005.

He was promoted to the rank of Rear Admiral in 2012 at the young age of only 49 years and thereby has had the opportunity to serve in senior leadership roles spanning Long-term Perspective and Financial planning, Force Development and Acquisitions, Infrastructure creation, Strategy and Transformation for an extended period.
He has served in the important appointment of Assistant Chief of Naval Staff (Policy & Plans) at Naval Headquarters, wherein through his foresight, he spearheaded the creation of the future Indian Navy.
Later, he commanded the prestigious and operationally significant Eastern Fleet of the Indian Navy, based at Visakhapatnam.

On promotion to Vice Admiral, in 2015, he was first Naval Officer to be appointed as Deputy Commander-in-Chief, Strategic Forces Command. He has also been the Deputy Chief of Integrated Defence Staff (Operations & Training) at the Tri-Service Headquarters Integrated Defence Staff, New Delhi.
He has thus acquired a rare combination of exposure/ experience at tri-Service organisations and in higher level policy-planning, making him an asset for the Higher Defence Organisation.

He was also the Chief of Staff of the Western Naval Command. He was later accorded the unique privilege of being the Commander-in-Chief of both the operational Commands of the Indian Navy.
Prior to taking over the reins of Western Naval Command, he was the Flag Officer Commanding-in-Chief Eastern Naval Command from March to November 2021.

The Flag Officer is married to Charu Singh, a qualified teacher who has been an active member of Navy Welfare & Wellness Association (NWWA) in various roles over the last 37 years.
The couple are blessed with two daughters, Ambika and Ajita.
---