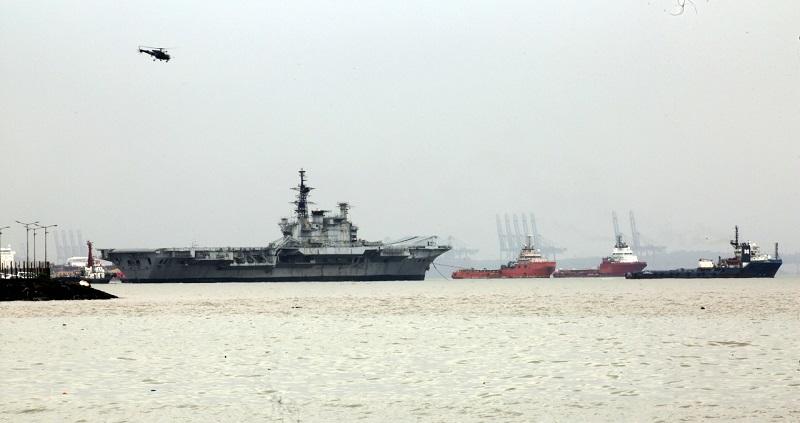 Viraat moving out of Mumbai
New Delhi: Indian Navy's decommissioned aircraft carrier Viraat moved out of Mumbai for Alang in Gujarat, wherein it would be dismantled and sold as scrap.
The aircraft carrier was commissioned in 1987 and had served in the Indian Navy for 30 years before it was decommissioned in 2017.
It covered over 5,90,113.65NM and spent 2258 days at sea.
It could carry 25 aircraft, including Sea Harrier fighters and Sea King 42 B/C, Chetak, Kamov 31 and ALH helicopters.
While operational, Viraat weighed about 27,800 tonnes. Its boilers had run for over 80,000 hours and it was probably the only warship, constructed during World War II, to have served any country for so long, an Indian Navy official said.
Nicknamed the Grand Old Lady, Viraat could carry a contingent of over 1,500 crew and officers.
Mumbai-based defence PRO in a tweet said, "#Mumbai bids adieu to #Viraat as she leaves harbour one final time on her way to Alang, Gujarat. The flagship of @indiannavy served with distinction for three decades after her service in @RoyalNavy as #HMSHermes for over two decades."
As Viraat began its final journey from the Naval dockyard, a Navy helicopter circling overhead provided a majestic backdrop to the vessel's last voyage.
Before commissioning into Indian Navy, Viraat had also served in the UK's Royal Navy as HMS Hermes for 27 years.
देहिनोऽस्मिन्यथा देहे कौमारं यौवनं जरा।
तथा देहान्तरप्राप्तिर्धीरस्तत्र न मुह्यति।।

... the Spirit lives on pic.twitter.com/RaAuCVPjGM

— SpokespersonNavy (@indiannavy) September 19, 2020
As per the reports, there were attempts to convert 'Viraat' into a museum or a restaurant, but none of the plans fructified.
Under the Indian flag, Viraat played a crucial role in military operations such as Operation Jupiter, Operation Parakram and Operation Vijay.
For the Indian Navy, Operation Jupiter in July 1989 was Viraat's first major operation, as part of the Indian Peace Keeping operations in Sri Lanka in the wake of the breakdown of the Indo-Sri Lankan accord of 1986.
Viraat also saw action during Operation Parakram in 2001-2002, post the terror attack on Parliament.
The last operational deployment of the ship was the participation in International Fleet Review at Vishakhapatanam in February 2016.
The ship also participated in various international joint exercises like Malabar (with US Navy), Varuna (with French Navy), Naseem-Al-Bahr (with Oman Navy) and was an integral element of annual Theater Level Operational Exercise (TROPEX).
After Vikrant, Viraat is the second aircraft carrier to be broken down in India. Vikrant was dismantled in Mumbai in 2014.
---