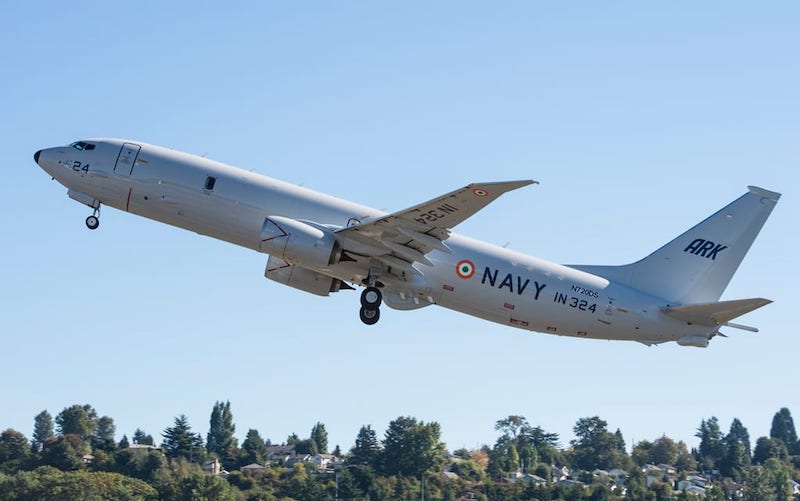 An Indian Navy Poseidon P-8I. (Photo: Indian Navy)
New Delhi: A large Chinese deep-sea fishing boat capsized in the Indian Ocean, some 900 nautical miles from India's territorial waters, on Tuesday. China's transport ministry has confirmed that two crew members have been killed in the incident and 39 are missing.
There were 41 people on board the ship, Lu Peng Yuan Yu 028, when the ship capsized. The missing crew includes 17 Chinese nationals, 17 Indonesians, and five from the Philippines.
Navy presses into action
The Indian Navy promptly responded to the SOS calls of the ship and deployed its P-8I Poseidon maritime reconnaissance aircraft for carrying out searches for the missing crew members. The Navy said it had carried out multiple and extensive searches despite adverse weather and located multiple objects possibly belonging to the sunken vessel.
The Navy said its P-8I deployed search and rescue (SAR) equipment at the scene on the request of the Chinese navy (People's Liberation Army – Navy) after PLA-N ships closed the area. Keeping its international obligations and displaying India as a credible and responsible partner for ensuring safety at sea, the Navy units coordinated search and rescue efforts with other maritime units in the area and guided PLA-N warships transiting to the scene of the incident.
The Navy said it will remain deployed to provide all possible assistance to the ongoing SAR efforts.
Some of the other Indian Ocean Region countries have also joined the SAR operation, like Australia, Indonesia, Sri Lanka, the Maldives, and the Philippines.
The Chinese foreign ministry spokesman, Wang Wenbin, told reporters that SAR operations were still underway. He said, "The Chinese government sincerely appreciates the help from those countries."
---