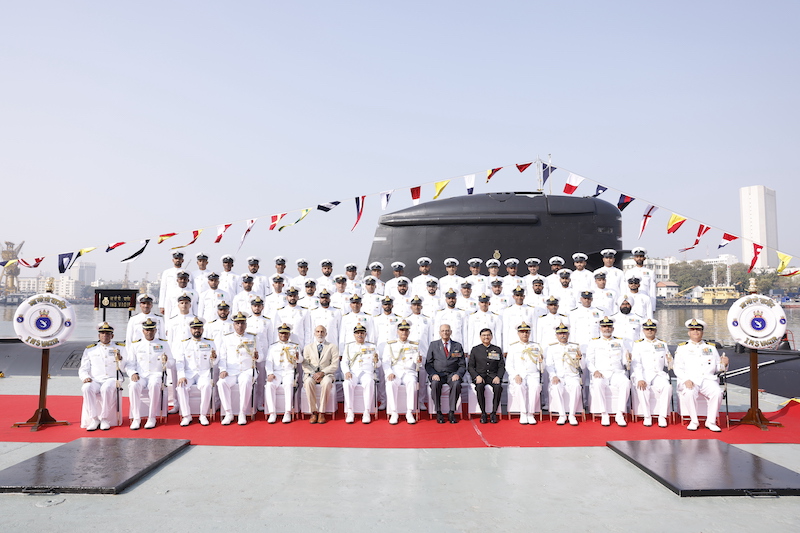 Admiral R Hari Kumar and others during the commissioning of INS Vagir. (Photo: Indian Navy)

Mumbai: Vagir, the fifth of the Kalvari-class Scorpene submarines, was commissioned into the Indian Navy at a ceremony at the naval dockyard here, on Monday. The chief guest of the event was Admiral Radhakrishnan Hari Kumar, the chief of the naval staff.
'Vagir', which means 'sand shark', will be known as Indian Naval Ship (INS) Vagir. It was built by Mumbai's Mazagon Dock Shipbuilders Limited (MDL) with technology transfer from France M/s Naval Group.
Speaking on the occasion, Adm Hari Kumar said, "Vagir takes its name from the 'sand shark', a deadly deep-sea predator of the Indian Ocean, and true to the name, in its new avatar too, she is a lethal platform with a formidable weapon package and state-of-the-art stealth technology. Her capabilities and firepower will not only enhance the Navy's combat potential, but also add teeth to our deterrence."
---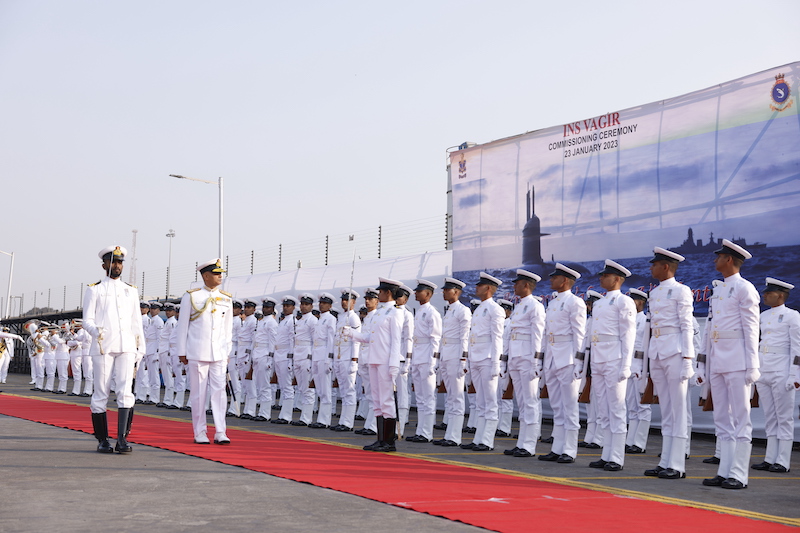 ---
Highlighting the record speed at which three indigenously built submarines were delivered to the Navy, the admiral said, "Vagir will be the third submarine inducted into the Navy in a short span of 24 months. This is no small achievement and underscores the coming of age of India's shipbuilding industry, and the maturing of our defence ecosystem."
The Navy chief then further added: "It is also a shining testimony to the expertise and experience of our shipyards to construct complex and complicated platforms. These aspects also serve to reinforce the Indian Navy's unequivocal commitment and steadfast resolve to be a fully 'atmanirbhar' (self-reliant) force by 2047 – a commitment made to our political leadership."
---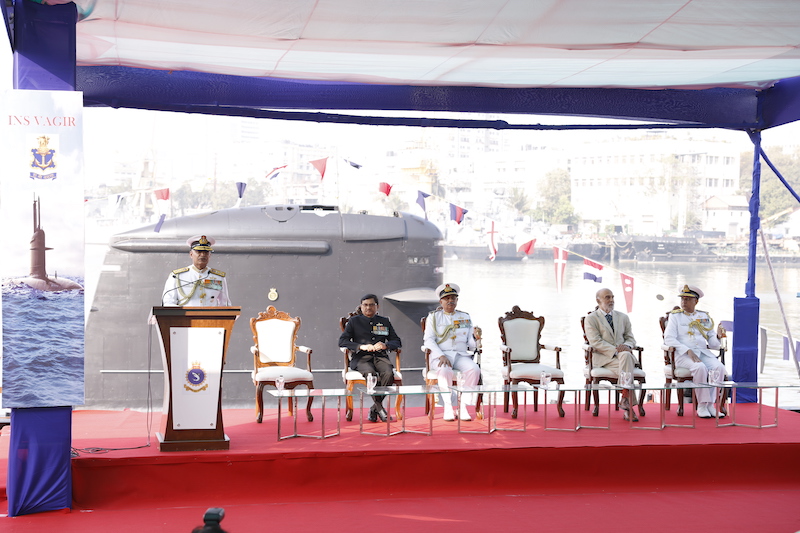 ---
INS Vagir (S25) takes its name from its predecessor and now-decommissioned INS Vagir (S41). That ship served the Indian Navy for almost 30 years from November 1973 to June 2001.
Built under Project-75, the brand-new INS Vagir is a diesel-electric attack submarine based on France's Scorpene-class submarines, which is designed by France' M/s Naval Group. It was launched on November 12, 2020, and started its sea trials from February 1, 2022.
---
---
Earlier, in a statement, the Navy had said: "It is a matter of great pride that she has completed all major trials, including the weapon and sensor trials, in the shortest time in comparison to the earlier submarines."
The other submarines constructed under Project-75 are: INS Kalvari, commissioned on October 27, 2015; INS Khanderi, commissioned on January 12; INS Karanj, commissioned on January 31, 2018; and INS Vela, commissioned on May 6, 2019. The sixth and last submarine under the project, Vagsheer, was launched on April 20, 2022, and is currently undergoing sea trials. It is expected to be commissioned sometime in March 2024.
---
All photos via Indian Navy.
---
---