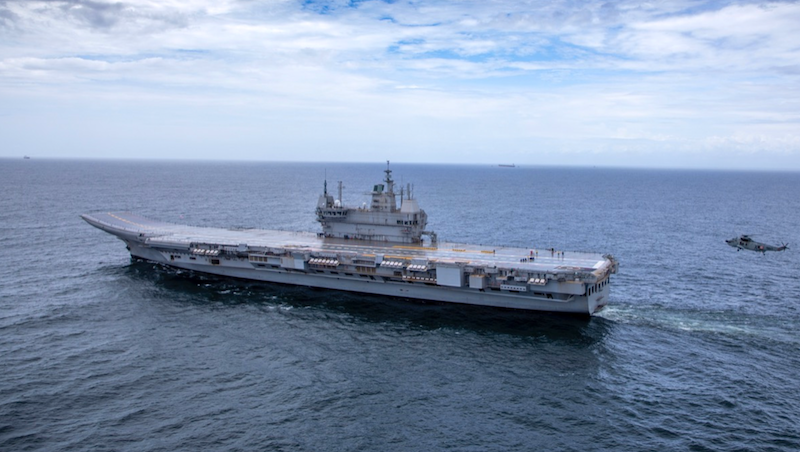 The Vikrant during sea trials. (Photo: Indian Navy)
New Delhi: With the first indigenous aircraft carrier (IAC-1) is slated to be commissioned into the Indian Navy by the prime minister, Narendra Modi, on September 2, and rechristened as INS Vikrant, the Navy on Thursday said it was considering Rafale (Marine) from France's Dassault Aviation and F/A-18 Super Hornet Block III from the United States' Boeing for the carrier's fighter aircraft. However, it said the selected fighter would be for "interim arrangement".
Replying to a reporter's question, the Navy's vice-chief Vice Admiral SN Ghormade said, "We designed the Vikrant for operating the MiG-29K but we would be ultimately deploying the indigenous TEDBF (Twin Engine Deck-Based Fighter) fighter aircraft for which we are working with the Defence Research and Development Organization." He then added, "For the interim, we are looking at Rafale and F-18 aircraft and trials have been carried out."
VAdm Ghormade further said "Evaluation is being done to select the aircraft and we hope that the decision would be taken earliest," adding that the aircraft trials on the carrier is planned from November, depending upon weather conditions.
Both the Rafale (M) and the F/A-18 successfully underwent tests earlier this year at a shore-based facility in Goa where conditions similar to that on Vikrant were simulated. Currently, the Navy operates with only one type of fighter, which is the MiG-29K from Russia.
According to reports citing government officials, The INS Vikrant is expected to be deployed for operations by next year.
VAdm Ghormade also said the commissioning of INS Vikrant will contribute in ensuring peace and stability in the Indo-Pacific region.
In reply to a reporter's question on ongoing tension between China and Taiwan, he said: "Firstly, I would like to assure you that the Indian Navy is fully prepared to protect its maritime boundaries. In all these issues, you need to continuously develop and keep updated with the growing technologies." He further said the commissioning of the aircraft carrier will be an "unforgettable" day as it will significantly enhance the country's overall maritime capabilities. Asked whether the Navy is pushing for construction of a second aircraft carrier, the Navy vice-chief said the matter is still under discussion.
Built over a cost of Rs 20,000 crore, the carrier successfully completed the fourth and final phase of the sea trials in July. The warship has over 2,300 compartments and will have a crew of around 1700 people, including special cabins for women officers. The carrier has a top speed of around 28 knots and a cruising speed of 18 knots with sea endurance of about 7,500 nautical miles in a single sail.
With the commissioning of the carrier, India will join an elite club of nations that has the capability to design and build an aircraft carrier indigenously.
---