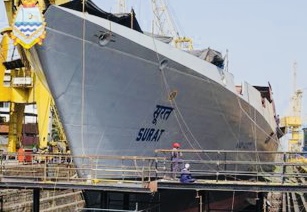 Surat: Gujarat chief minister Bhupendra Patel and Indian Navy chief Admiral R Hari Kumar will be unveiling the Crest of indigenous under-construction, guided missile destroyer, 'Surat', on Monday at Surat.
Indian Navy spokesperson Commander Vivek Madhwal said that this is the first warship of Indian Navy to be named after a city of Gujarat and also the first time that unveiling of the crest of a warship is being undertaken in the very city after which it has been named.
On March 17, 2020 Defence Minister Rajnath Singh had launched this warship at Mumbai.
Amongst the latest frontline 'Warship Projects' under construction, the 'Project 15B' programme involves construction of four next generation stealth guided missile destroyers, of which 'Surat' is the fourth and the last ship.
She is presently under construction at the Mazagon Docks Shipbuilders Limited in Mumbai.
"Construction of this warship testifies the nation's dedication to indigenous cutting-edge warship building technology and commitment to strategic military advancements," Commander Madhwal said.
Know about the city Surat's maritime history
City of Surat was the most important maritime trade link between India and many other countries from the 16th to the 18th century.
The city was also a flourishing centre for ship building activities and the vessels built in Surat, during this period, were especially renowned for their longevity as some ships continued to be in service for more than 100 years.
It is a maritime tradition and a naval custom according to which many of the Indian naval ships have been named after prominent cities of our nation.
"Indian Navy is therefore immensely proud of naming its latest and technologically the most advanced warship after the city of Surat."



---