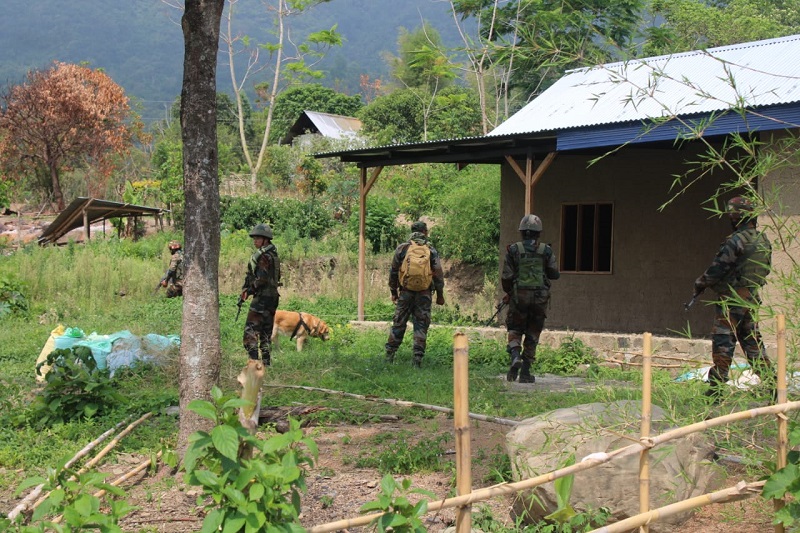 Security forces carrying out a combing operation in a Manipur village. (Photo through special arrangement.)
New Delhi: Exactly a month after of the ethnic clash erupted between Meitei and Kuki communities in parts of the state, in a joint operation, the Indian Army and Assam Rifles along with Manipur Police and central armed police forces (CAPFs) started area-domination operations in the hills and valley area across Manipur, on Saturday. The clashes erupted in the state on May 3 after tribal groups took out a protest march against granting "scheduled tribe" status to the majority Meitei people in the state.
As part of joint strategy for recovery of snatched weapons, an official said, "These operations are significant for restoring peace and will continue in a calibrated manner."
According to the security forces, these operations are being carried under the surveillance cover of unmanned aerial vehicles (drones). The official said the operations have resulted in recovery of 40 weapons, mostly automatic, so far. Also, large quantities of ammunition, including mortars, have been recovered from "warlike stores".
The official also added that during these operations, adequate measures were undertaken to ensure that the locals are not harassed and personal safety and security is maintained.
The security forces have appealed to all those in possession of snatched weapons to surrender the same at the earliest for ensuring peace and stability in the state. The security forces have also warned that failure to surrender these weapons will make all such people liable for strict legal action.
Enforcement of 'SoO' agreement in Manipur
The security forces say easy access of arms and ammunition to unfriendly elements aiming to destroy peace and harmony is an aspect that can't be ignored in the violence ravaged state of Manipur.
To make sure weapons don't reach these elements, the security forces have identified de-weaponization and enforcement of "suspension of operations" or SoO agreement with militant groups in Manipur. The security forces said intelligence sources have been activated and dedicated columns of security personnel are kept on standby to ensure quick action on receipt of input for early recovery of weapons.
Detailed plans have been prepared for implementation with immediate effect.
Surprise Check of SoO camps is also being undertaken to ensure presence of weapons and cadres as stipulated in the agreement.
Earlier this week, during a visit to the strife-torn state, the Union home minister, Amit Shah, had appealed to miscreants and militants to immediately hand over weapons and ammunition snatched from police armouries. Shah also said the terms of the SoO agreement must be followed by the militants to maintain peace.
---