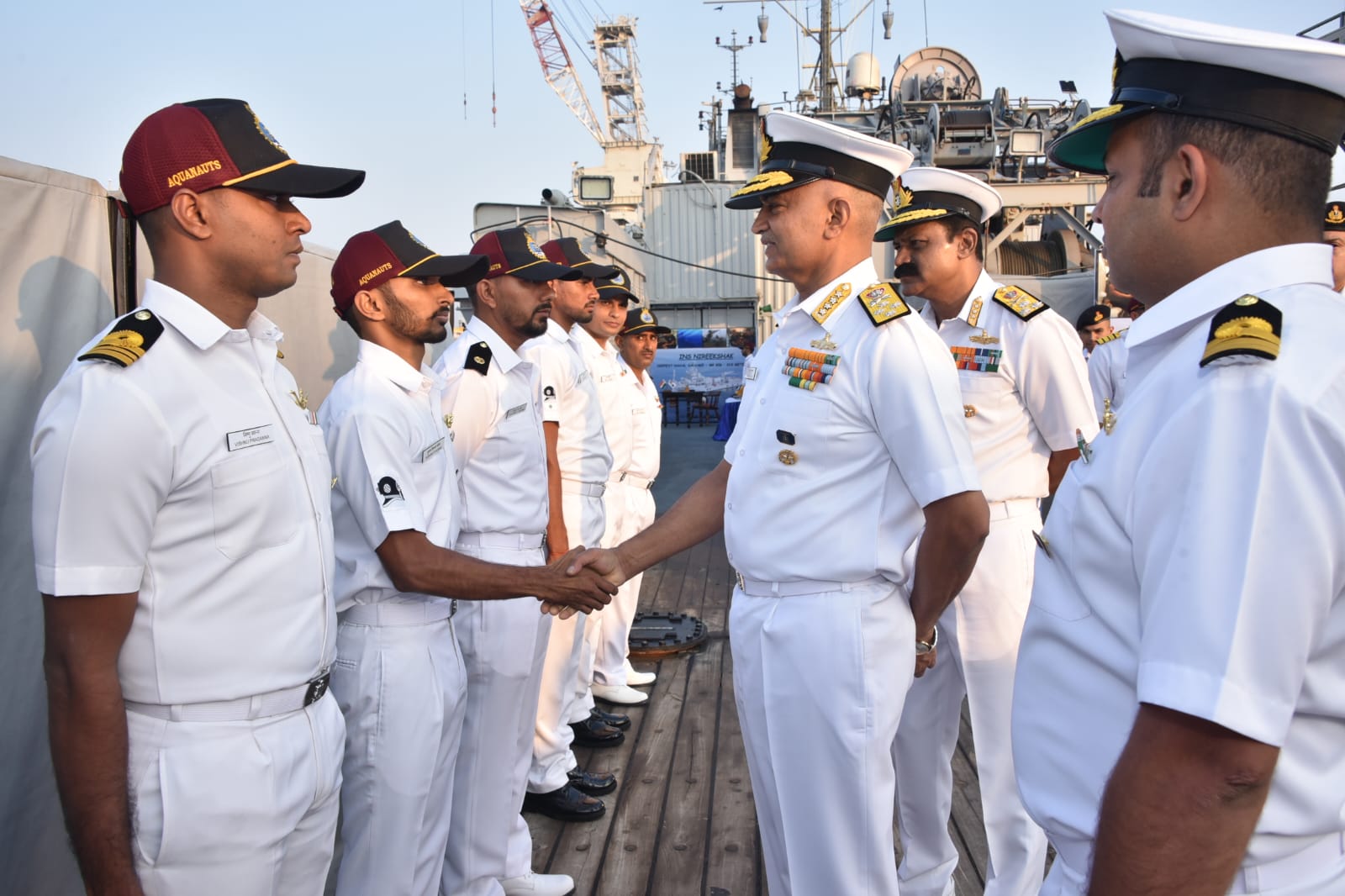 Admiral R Hari Kumar interacting with officers and sailors on board INS Nireekshak. (Photo: Indian Navy)
Kochi: The chief of the naval staff, Admiral Radhakrishnan Hari Kumar visited INS Nireekshak at Kochi, on Monday, where, impressed by the ship and its crew's performances in deep-sea diving and undertaking salvage operations in challenging conditions, he awarded the Navy chief's Unit Citation to the ship on the spot, the Navy said in a release.
This is the first time that an Indian Navy ship was awarded an "on the spot" Navy chief's Unit Citation.
While on the ship, Adm Hari Kumar interacted with the diving team of the ship, which was involved in salvage operations at a depth of up to 219 metres in the Arabian Sea – the deepest salvage carried out in the country's waters. He commended the ship on the safe and successful conduct of the operations under most challenging circumstances.
The Navy chief also complimented the dedicated effort of the ship in conducting the deep-diving operations. He exhorted the undaunted spirit of the "Men Behind the Machine".
It may be noted that INS Nireekshak is a dive support and submarine rescue ship of the Indian Navy. The ship had also recently completed a solemn dive off the Gujarat coast to pay homage by laying wreath at a depth of 80 metres at the resting site of erstwhile Indian frigate INS Khukri, which was sunk by a Pakistani navy submarine during the 1971 Bangladesh Liberation War.
INS Nireekshak was built by Mazagon Shipbuilders, in 1985. The ship has been in service with the Navy since 1989 and was commissioned in the year 1995. It has been part of various diving operations and holds the record for the deepest dive carried out in the country to a depth of 257 metres.
---