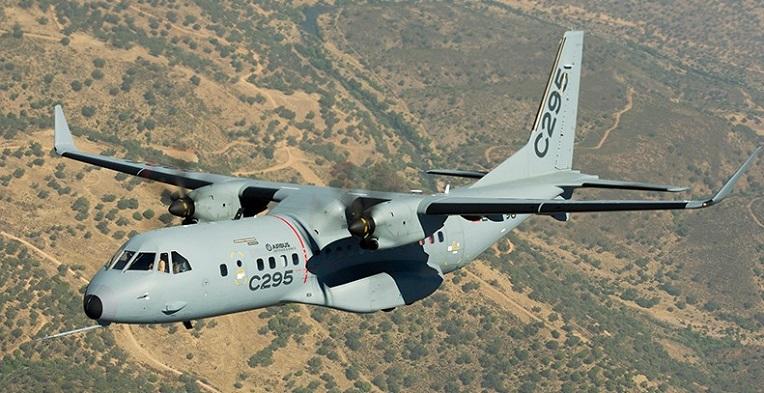 C295 aircraft to be made in Gujarat
Bengaluru: Spanish aerospace company Airbus will display scale models of the new-generation tanker A330 MRTT as well as the C295 military aircraft during the Aero India 2023 in Bengaluru to be held from February 12-17.
The C295 military aircraft will be built under 'Make in India' programme in collaboration with the Tata Advanced Systems Limited in Gujarat's Vadodara.
In October 2022, the prime minister, Narendra Modi had laid down the foundation stone for the C-295 transport aircraft manufacturing facility in Vadodara to be set up by Airbus Defence and Space and Tata Advanced Systems Limited (TASL).
This is the first time a private sector company will be making a full aircraft in the country.
The C-295MW is a transport aircraft of 5-10 tonne capacity which will replace the legacy Avro aircraft in the Indian Air Force (IAF) procured in the 1960s.
---
Read also: All you need to know about Airbus-Tata C-295 transport aircraft manufacturing project
---
The Request For Proposal (RFP) was issued to global firms in May 2013 and the sole bid by Airbus and TASL was approved by the Defence Acquisition Council in May 2015.
On September 24, 2021 the Ministry of Defence (MoD) signed a ₹21,935 crore contract with Airbus Defence and Space for the acquisition of 56 C-295MW aircraft along with associated equipment.
What other things the Airbus will do at Aero India 2023?
Airbus will host a public 'meet-and-greet' event aimed at recruiting engineering and information technology (IT) talent at the Aero India air show.
Aspiring candidates can meet Airbus executives at stand number CR7.1 in Hall C, where they can explore career opportunities in airframe design, avionics, aircraft systems simulation, data analytics, cybersecurity and cabin engineering.
Candidates will also get a chance to interact with senior Airbus officials to find out more about the company's already extensive and growing footprint in India and South Asia.
"Airbus is a top destination for the very best of India's engineering and information management talent with a passion for aerospace," said Suraj Chettri, Director – HR, Airbus India and South Asia.
"As a company, we believe in encouraging an atmosphere of ownership where employees feel valued, respected and professionally fulfilled. This is why Airbus is recognised as a great place to work for and was recently awarded Top Employers certification by the Top Employers Institute, a global independent authority, recognising excellence in people management and HR policies."
The talent scouting event at Aero India is part of Airbus' ramp-up for 2023 when it intends to recruit more than 13,000 people globally.
The new hires will be instrumental in supporting Airbus' industrial ramp-up, its ambitious decarbonisation roadmap and preparations for the future of aviation.
Visitors to the Airbus stall will also get an opportunity to see its extensive range of products, cutting-edge technologies, services and innovations from its Commercial, Helicopters and Defence and Space portfolios.
Visitors to the stand can also see digital displays of the earth observation satellite, the Pléiades Neo, OneAtlas, that provides premium satellite imagery, and Sirtap, a tactical unmanned aerial system (UAS).
Scale models of the VSR700 from the UAS category, H225M from the military category, and the H160 from the civil helicopter range will also be on the show along with the commercial aircraft model of the A350.
---