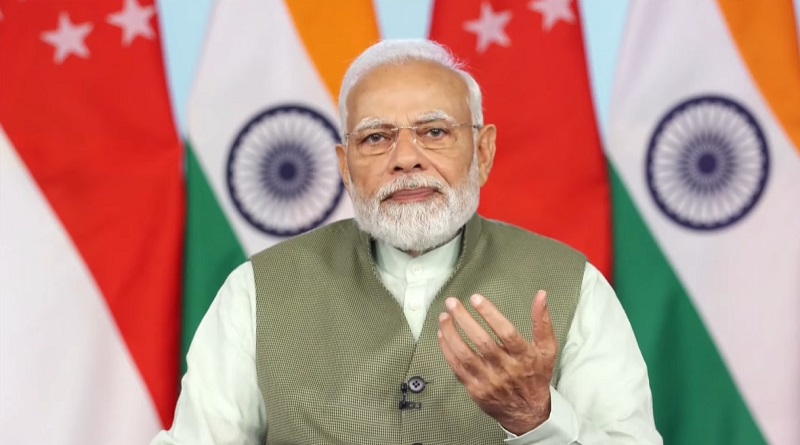 PM Narendra Modi during joint launch of UPI-PayNow linkage
New Delhi: Prime Minister Narendra Modi and his counterpart Lee Hsien Loong from Singapore jointly launched the Unified Payments Interface (UPI) - PayNow linkage between two countries on Tuesday which would enable faster and cost-efficient transfer of cross-border remittances.
Now, the UPI users can quickly make digital payments through apps like BharatPe and Paytm, and its equivalent network in Singapore called PayNow.
It has now been integrated at a competitive rate.
Reserve Bank of India's Governor Shaktikanta Das and the Monetary Authority of Singapore's (MAS) Managing Director Ravi Menon launched the UPI-PayNow in the presence of both the prime ministers. During the launching ceremony, the two officials also made transfer of funds through app.
What are UPI and PayNow?
UPI is India's mobile-based fast payment system, which facilitates customers to make round-the-clock payments instantly, using a Virtual Payment Address (VPA) created by the customer.
The app eliminates the risk of sharing bank account details by the remitter.
It supports both Person-to-Person (P2P) and Person-to-Merchant (P2M) payments and it also enables a user to send or receive money.
PayNow is a fast digital payment system in Singapore.
It enables peer-to-peer funds transfer service, available to retail customers through participating banks and Non-Bank Financial Institutions (NFIs) in Singapore.
Launch of UPI - PayNow Linkage https://t.co/4NUyU9Ap6S

— ReserveBankOfIndia (@RBI) February 21, 2023
What is the UPI-PayNow linkage?
It must be mentioned that the cross-border retail payments have generally been less transparent and more expensive than domestic transactions.
Their integration is a significant milestone in the development of infrastructure for cross-border payments between India and Singapore and closely aligns with the G20's financial inclusion priorities of driving faster, cheaper and more transparent cross-border payments.
Initiated in 2021, the project to integrate both the fast payment systems bear the fruit now.
It will be faster, more efficient and transparent cross-border transactions relating to trade, travel and remittances between the two countries.
How will it benefit the citizens of both countries?
The people can make payments, receive or send funds instantly with low-cost charge.
It will also help the Indian diaspora in Singapore, especially migrant workers and students, through the instantaneous and low-cost transfer of money from Singapore to India and vice-versa.
As per the RBI Remittance Survey 2021, of the total inward remittances to India in 2020-21, the share of Singapore stood at 5.7 per cent.
What does PM Modi say?
Linkage of Unified Payments Interface (UPI) and PayNow is a new milestone in India-Singapore relations. UPI is most preferred payment mechanism in India. Many experts are estimating that digital wallet transactions are going to soon overtake cash transactions.
74 billion transactions amounting to more than Rs 126 trillion was done through UPI in 2022.
Large number of transactions via UPI demonstrate that this indigenously designed payment system is very secure.
---