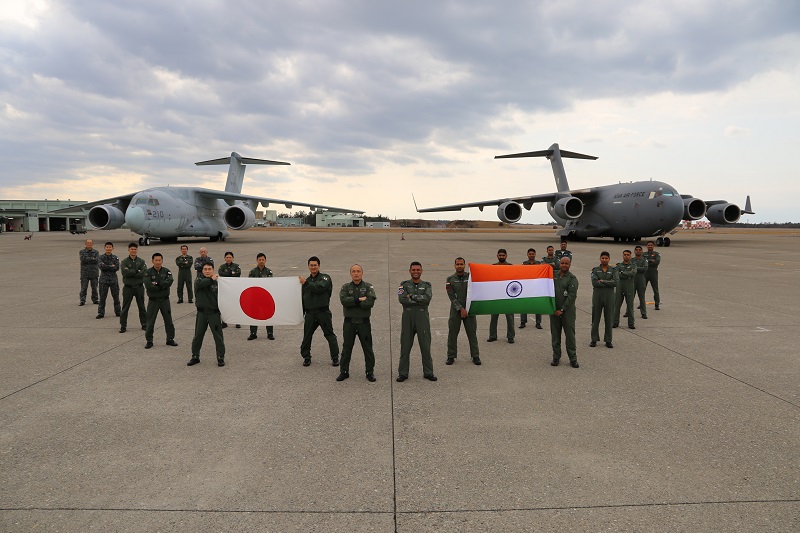 Air warriors of India and Japan. (Photo: Indian Air Force)
New Delhi: The Indian Air Force and its Japanese counterpart, Japan Air Self-Defense Force, have begun a two-day exercise called "Shinyuu Maitri" at Komatsu in Japan, on Wednesday, on the sidelines of the India-Japan joint army exercise, "Dharma Guardian", which is currently underway at same place.
The IAF contingent is participating in Exercise Shinyuu Maitri – 2023 with one C-17 Globemaster III aircraft.
The first phase of the exercise was conducted with discussions on transport operations and tactical manoeuvring, followed by the second phase of flying drills by IAF's C-17 and JASDF's C-2 transport aircraft.
The exercise gives an opportunity for the respective subject matter experts to interact and study each other's operational philosophies and best practices.
---
Read also: 'Exercise Cobra Warrior' – Indian Air Force team flies to UK for multinational wargames
---
The exercise shall also enhance mutual understanding and interoperability between the IAF and the JASDF.
"Exercise Shinyuu Maitri – 2023 will be yet another step in the expanding defence cooperation between the two countries; as well as for the IAF to operate in diverse environments across the globe," IAF PRO Wing Commander Ashish Moghe said.
The exercise is being conducted at a time when the IAF's heavy-lift transport aircraft fleet is also taking part in Exercise Desert Flag VIII in United Arab Emirates and Exercise Cobra Warrior in the United Kingdom.
---
Read also: Desert Flag VIII – In a first, LCA Tejas to participate in international exercise
---
---