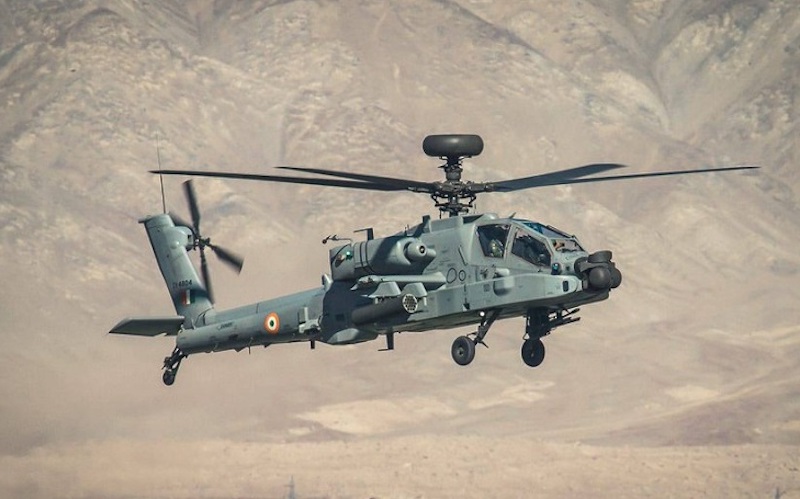 An IAF Apache AH-64E somewhere in Ladakh. (File photo)
Gwalior: An Indian Air Force Apache AH-64E combat helicopter made an emergency landing near Bhind in Madhya Pradesh while it was carrying out routine operational training, on Monday. No casualty has been reported in the incident.
The IAF said that all crew members and the aircraft are safe. "The rectification party has reached the site," it said, adding that a court of inquiry has been ordered to ascertain the reasons.
The pilot had to make precautionary landing after detecting some technical glitches in the helicopter. According to an IAF official, a "major incident" was averted due to the "pilot's presence of mind".
This is not the first time an Apache helicopter had to make an emergency landing since its induction in the IAF in 2018. As India Sentinels had reported earlier, on April 17, 2020, the chopper made an emergency landing at Indora in Punjab's Hoshiarpur district.
In that incident, the combat helicopter had been airborne for an hour after taking off from the Pathankot airbase developed critical failure. It forced the pilot to land it at a safer place. No damage to crew and aircraft were reported.
About the Apache AH-64E
The Apache helicopter is made by the American defence behemoth Boeing Defence. The Apache AH-64E is considered to be the most advanced multi-role combat helicopter in the world.
India is one of 17 nations to select the Apache and has the most advanced variant, the AH-64E Apache that is also flown by the United States and many other countries.
In 2015, India signed a contract worth $1.1 billion with Boeing for the acquisition of 22 Apache AH-64E helicopters for the IAF. The delivery of all the initially contracted helicopters has been completed, as India Sentinels reported in July 2020.
Now, the IAF has a fleet of 22 of these attack helicopters, with two squadrons based at Punjab's Pathankot and Assam's Jorhat.
Additionally, India has also entered a deal in 2020 for acquiring six Apache choppers for the Indian Army worth $930 million.
The AH-64E Apache is designed and equipped with an open systems architecture including the latest communications, navigation, sensor, and weapon systems. It has an improved modernized target-acquisition designation system (MTADS) that provides day, night, and all-weather target information, as well as night vision-navigation capability.
The helicopter is also equipped with fire-and-forget Hellfire missiles. It can track up to 128 targets a minute and prioritize threats.
---