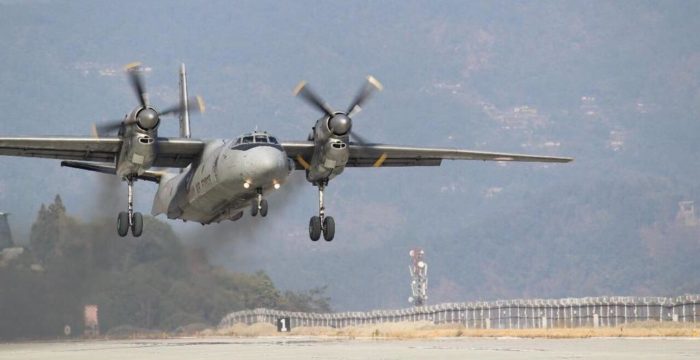 Time was running out as bad weather, dense forest and rainfall continued to hamper the search and rescue operations to locate the missing AN-32 transport aircraft of the Indian Air Force with 13 people which had taken off from Jorhat in eastern Assam on  Monday enroute to Mechuka Advanced Landing Ground in Arunachal Pradesh.
However, it was not for the first time that the IAF lost its transport aircraft in the same area. A decade back, in June 2009, an An-32 crashed near Tato village in Arunachal Pradesh while it was on a routine sortie involving 13 personnel. Seven of these personnel were from the IAF and the rest from the Army.
In July 2016, the transport aircraft went missing when it was on a routine weekly courier flight from Chennai to Port Blair, carrying 23 personnel and six crew. So far, it has not been traced.
On Tuesday, Indian Space Research Organisation deployed CARTOSAT and RISAT satellites and the Navy pressed into service its spy aircraft, aiding the efforts to search for the aircraft in Assam-Arunachal Pradesh region.
Satellites have been deployed over parts of Arunachal Pradesh and Assam to locate the missing An-32 transport aircraft. Indian Army's one Advance Light Helicopter (ALH), IAF's 2 Mi 17helicopters, one ALH, one transport aircraft AN-32 and one C-130J Super Hercules are conducting search operations in cloudy weather," an IAF spokesperson said.
Search operations were being conducted in the areas of Along, Payum and Tato, which is 30 kms away from Menchuka Advance Landing Ground (ALG) in Arunachal Pradesh near China border.
Indian Navy has also pressed into service it's long-range maritime reconnaissance aircraft P8I that took off from INS Rajali in Arakonam of Tamil Nadu on Tuesday to join the search and rescue operation.
The P-8I aircraft has Synthetic Aperture Radar, Electro Optic and Infra Red modes to scan the thickly forested landscape in Arunachal Pradesh and Assam region.
"Post sunset, search by helicopters have ceased for the day. However, search by all sensors with night capability and the ground party are continued throughout the night. All possible assistance is being provided by Indian Army, Indian Navy, Police and State administration," the spokesperson added.
The families of all air-warriors on board the aircraft have been informed and are being regularly updated on the progress of search for the missing aircraft, he added.

Hi-tech
SAR technology provides terrain structural information to reconnaissance and targeting information to military operations.

As per the sources in the IAF, the missing aircraft has Emergency Locator Transmitter but it is activated only on impact of 20G pressure. It also needs Line of Sight for it to be detected, means search aircraft should pass over it to pick up the signals. The search operations party has a huge challenge in locating the missing aircraft by air or ground as the North-East is very thickly forested.
An ELT is a radio beacon, a battery powered radio transmitter, used to locate airplanes, vessels, and persons in distress and in need of immediate rescue.
In case of an emergency, such as the aircraft crashing, the transmitter is deployed and begins to transmit a continuous radio signal, which is used by search and rescue teams to quickly find the emergency and render aid.
The ground teams of Indian Army, ITBP and Arunachal government's agencies are working relentlessly to locate the aircraft which lost contact at around 1300 hours on Monday, half-an-hour after take off from the base in Assam.
Arunachal Pradesh Chief Minister Pema Khandu tweeted, "Praying for safety of all 13 persons who were on board on Indian Air Force AN-32 plane which took off from Jorhat Station for Mechuka  Advance Landing Ground at around 1 pmand is reportedly missing. Our all support to the IAF that have launched its search operation."