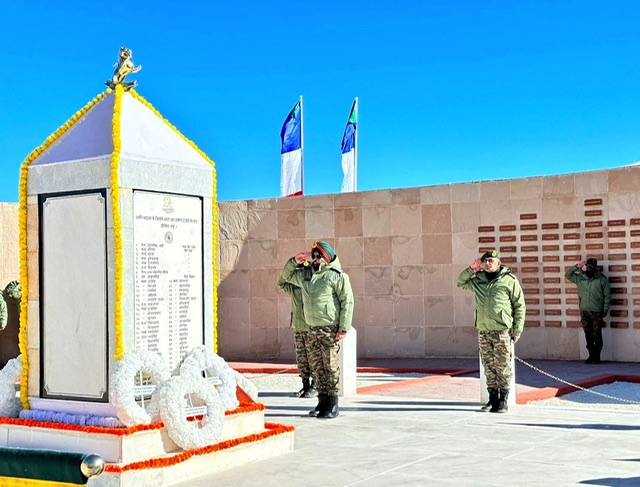 Maj Gen MS Mokha at Rezang La Memorial
Leh: Fire and Fury Corps Chief of Staff Major General MS Mokha on Saturday paid tributes to the 114 Bravehearts of the Chushul Brigade at the Rezang La Memorial, on the occasion of the 61st Anniversary of the Battle of Rezang La.
The Battle of Rezang La is etched in the annals of military history as one of the greatest last stands of all times.
The Battle stands out for extraordinary valour, grit and dogged determination of C Company of 13 KUMAON that fought to the last man, in 1962 war against China, defending Rezang La in Eastern Ladakh, under the dynamic leadership of Major Shaitan Singh.
Battle of Rezang La, an epic battle of all times, has immense inspirational value for the entire nation.
In November 1962, 13 KUMAON was deployed at Magar Hill and Rezang La in Chushul Sector, Eastern Ladakh, as part of 114 Infantry Brigade.
The early hours of 18 November 1962 witnessed a fierce battle at Rezang La.
Against all odds and despite being overwhelmingly out-numbered, the valiant soldiers of 'C' Company, 13 KUMAON, repulsed a series of attacks launched in waves by the Chinese.
Despite heavy artillery shelling and fierce assaults, Maj Shaitan Singh and his 113 bravehearts delivered mighty blows to the adversary.
The brave soldiers of 13 KUMAON were honoured with one Param Vir Chakra, eight Veer Chakras, four Sena Medals and one Mention-in-Despatches.
These names will forever remind the future generations of the brave men who laid down their lives fighting for our country on 18 November 1962.
"The Nation on this day remembers our bravehearts and salutes them for their sacrifice."


---