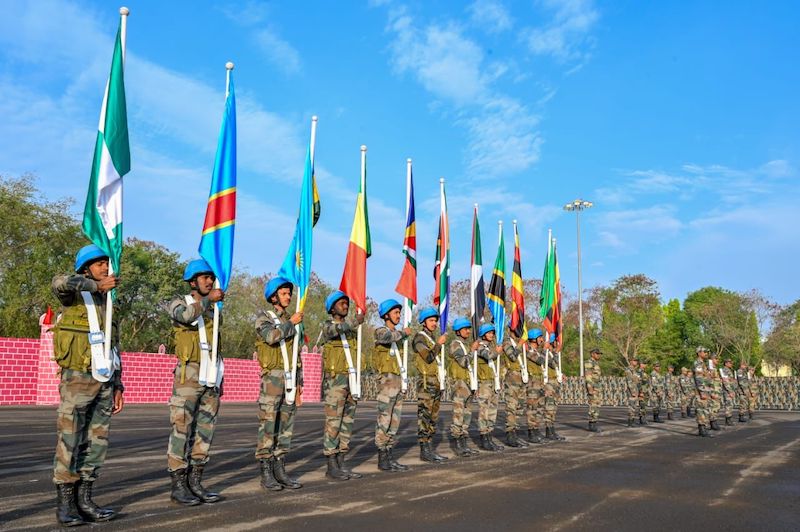 Some participants in AFINDEX – 2023 seen during a parade ceremony at Pune. (Photo: Indian Army)
Pune: The second edition of the Africa-India joint military field training exercise, AFINDEX – 2023, between India and 23 African nations started at the Foreign Training Node, Aundh, Pune, on Tuesday. In the exercise, 100 participants from Botswana, Cameroon, Egypt, Equatorial, Eswatini, Ethiopia, Ghana, Guinea, Kenya, Lesotho, Malawi, Morocco, Niger, Nigeria, Republic of Congo, Rwanda, Senegal, Seychelles, South Africa, Sudan, Tanzania, Uganda, Zambia, and Zimbabwe are attending this unique field training exercise.
The participants were addressed by the Desert Corps (XII Corps) commander, Lieutenant General Rakesh Kapoor.
The joint exercise is in keeping with India's Africa outreach, which began in 2008 through the India-Africa Summit and has been thereafter held in 2015 and 2019. The theme of this year's exercise is "Humanitarian Mine Action and Peace Keeping Operations".
According to an Indian Army release, the objectives of the exercise are to continue to build upon the initiatives taken to strengthen India-Africa relations, with a focus on enhancing peace and security, to create opportunities to exchange ideas and perspectives, learn from the African experience in cooperative security and management of security crisis situations as well as to promote a collaborative approach in capacity enhancement of African armies. It is also seen as a vital engagement for refining the interoperability and operational preparedness for UN peacekeeping operations.
According to the release, this year's exercise is divided into four phases:

a) Training the trainers.
b) Humanitarian minesweeping action.
c) Peacekeeping operations.
d) Validation exercise to assess the results of the training.
The primary focus of the joint exercise will remain on tactical drills, procedures, and the ability to operate jointly with seamless interoperability.
India would also be conducting a conclave of African defence chiefs from March 28 to March 30. The visiting chiefs will witness the proceedings of the validation exercise of AFINDEX – 2023.
---