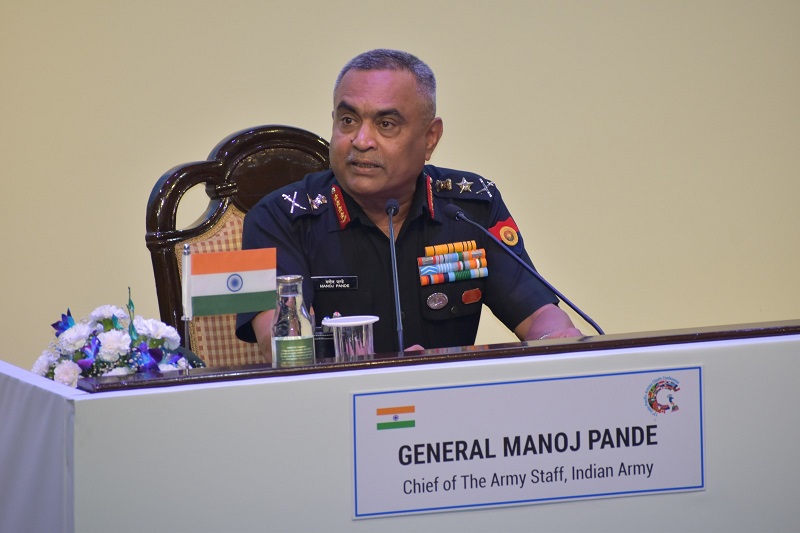 Indian Army chief Gen Manoj Pandey
New Delhi: Mulling over emerging geo-strategic contours, Indian Army Chief General Manoj Pande has pointed about the rise of China and its "belligerence" is presenting a threat to the "rule based international order".
"Possession of political, economic, technological and military power has accorded it (China) a new position in the world order, which it intends to lead. With its economic heft, China has been looking at geo-political and trade engagements as zero-sum games," Gen Manoj Pande said while speaking at the PHDCCI (PHD Chamber of Commerce and Industry) annual session.
"Concurrently, Chinese belligerence is evident in its continuing propensity to project power outside its region, in turn presenting a threat to 'rules based international Order'," the Indian Army chief said.
Gen Pande, giving an example of the resolute and firm manner with which the Indian Army stood up to the Northern adversary, during the events of April – May 2020, "has made the world take notice of the political and military resolve of a rising India."
Many nations today, "also appear ready to take the China issue head-on, specially post pandemic, and as realisation of its predatory economic pursuits, sink in."
The China's PLA had clashed with the Indian Army Soldiers in May 2020 and had moved its troops at multiple points leading to standoffs in Eastern Ladakh. Indian Army also mobilised more than 60,000 troops with commensurate fire power.
Coming to Internal Security situations India is dealing with, Army Chief said, have their unique set of challenges.
"But the most important pointer for us is that our legacy challenges of unsettled borders continue and stand amplified due to collusivity between our Western and Northern adversary. Infirmities in border management can lead to wider conflict," Gen Pande highlighted.
Adding further, on examples displaying diplomatic ability, General Pande pointed to the 'complex global relationships' being witnessed, involving interplay of Interests, Concerns and Aspirations.
The Army chief also touched upon the Russia-Ukraine conflict and growing strategic relevance of the Indo-Pacific theatre.
"Our stance on the Russia-Ukraine conflict is a fine example, where we stood steadfast and clear, towards addressing legitimate pursuits of our National Interests."
On Indian Defence Industry, the Army chief said, is rising up to the challenge.
"We have 340 indigenous defence industries working towards fructification of 230 contracts by 2025 that entails an outlay of Rs 2.5 lac crore. Apart from weapon systems and equipment, we are also pursuing 47 niche technologies which we have identified for military application. 120 indigenous projects are underway to develop and absorb these niche technologies."
---