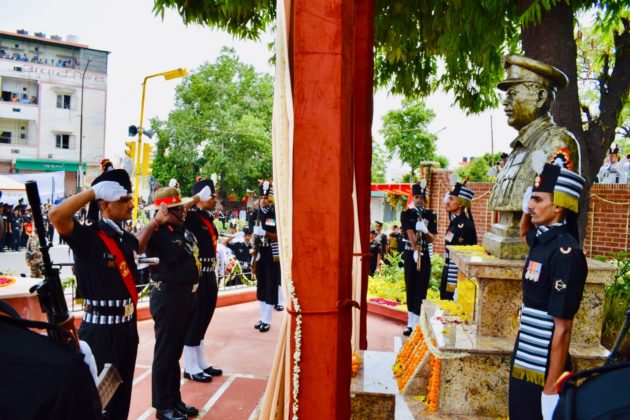 Jaipur: Indian Army's Sapta Shakti Command Commander Lieutenant General Cherish Mathson on Saturday inaugurated an Epitaph of Lieutenant General Sagat Singh near Jharkhand Mod in Jaipur.
A wreath was also laid by as mark of respect to this brave son of Rajasthan.
Towards celebrations of the birth centenary of General Sagat (14 July 2019), Army has conducted lectures in various schools of Rajasthan, Haryana, Punjab & UP to spread awareness about achievements of this great general who inspite  of having joined the Army in ranks rose to become Lieutenant General, Rajasthan-based defence Spokesperson Col Sombit Ghosh said.
Lt Gen Singh was instrumental in liberation of Goa from Portuguese rule  in 1961.
In 1967, he refused to vacate the Nathu La pass after a clash between India and China broke, even after being ordered by his own superior authorities.
The end result was that Nathu La is still with India.
Later during Indo-Pak war of 1971, he commanded 4 Corps and made famous advance to Dhaka during liberation of Bangladesh.
He was one of the fortunate ones to witness the signing of famous surrender instrument by General Niazi of Pakistan Army, Col Ghosh added.
The general officer spent his retired life in social works helping the poor and underprivileged villagers.
He passed away on September 26, 2001.
A patriot to the core, General Sagat has left a legacy of professionalism for the generations of the Indian Army soldiers to follow. Sapta Shakti Command salutes him, he added.
Army has also planned to conduct a convention in Sapta Shakti Auditorium on Sunday to remember this brave son of Rajasthan.