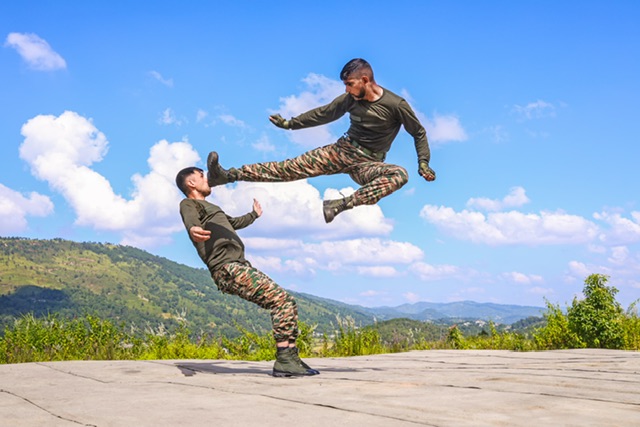 Harimau Shakti exercise underway
Guwahati: A joint war game code named "Exercise Harimau Shakti 2023" between the Armies of India and Malaysia is underway at Foreign Training Node, Umroi Cantonment in Meghalaya.
The joint exercise was began on October 23 and will culminate on November 5. It is progressing with full steam covering the vast canvas of multi-domain operation in sub conventional environment.
"With an aim of achieving inter-operability, the personnel of both the Armies were put into exercise for the past one week. Both the contingents were put on combat conditioning and tactical training which included firing drills and 'battle hardening' work sessions," Guwahati-based defence PRO Lt Col Mahendra Rawat said on Monday.
Special emphasis were given on special training of troops in jungle to include Hellebore operation, Rock Climbing, Jungle Survival techniques and Reflex shooting and employment of snipers, IED and counter IED drills, AMAR (Army Marshal Art Routine) among others, Lt Col Rawat said.
The Indian contingent took the opportunity to get acquainted with the operational procedures and drills of Malaysian Contingent and vice versa.
The joint training would culminate in a 48 hours validation exercise which aims to rehearse & validate the tactical drills in simulated sub conventional environment.
In the Exercise Harimau Shakti -IV 2023, The Command Post Exercise (CPX) a table top planning , event focused on unit commanders and staff officers abilities of operational plan formulations.
During the *Harimau -IV* Missions are tracked on computer screens, Maps, Overlays while simulated insurgents groups fight back.
The *HARIMAU SHAKTI-IV* CPX planned on Basic concept and Mandate of Chapter VII of Peace Enforcement.
Two tactical operational events RAID on insurgent's hideout and Cordon and search operations were planned during the course of three days in Umroi.
CPX involved every asset of the Combat and Combat Support from infantry, Artillery and engineers, Signals and Logistics including medical components for the planning phase.


---