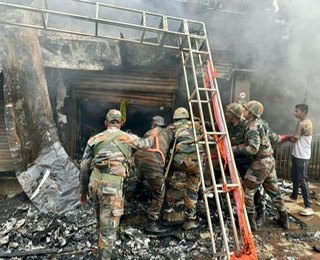 Dharangdhara: At 0800 am on 07 November, a major fire broke out in the market place of Dharangdhra in Surender Nagar district.
A huge fireball engulfed 15-20 shops and caused panic amongst the people.
The Indian Army columns swung into action immediately with its firefighting teams stationed at Dharangdhara Military Station.
All efforts were put to save the lives of civilians including ladies and children. The people were evacuated to safer places with the help of civil administration.
The action has ensured that there has been no loss of life. Multiple Firefighting agencies are working hard to control the situation.
The operation is still underway with the deployment of approximately 70-80 army persons with firefighting equipment as of 3 pm.
"The Indian Army is committed to the safety and well-being of our citizens and stands ready to provide critical support to civil authorities during times of calamity."
"When disaster strikes, whether it be a natural catastrophe, public health crisis or other emergencies, our military is dedicated to assist civil authorities and protect lives and property."
---