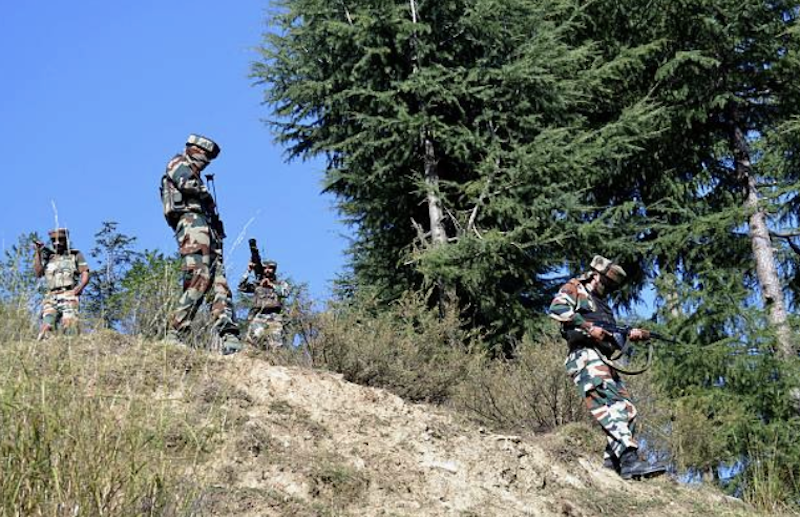 File photo for representation.
Udhampur: Two Indian Army soldiers were killed while carrying out an intelligence-based anti-militant operation in the Kandi forest area of Jammu & Kashmir's Rajouri sector, on Friday, the Northern Army Command HQ here said in a statement.
It said the incident took place when a team of Army personnel along with members of other security forces were combing the area to flush out militants from the forest. The joint operation was launched on May 3 after intelligence reports specifically said the terrorists, who were involved in the April 20 ambush in Rajouri on an Army column killing five soldiers, were hiding in the forest.
The Army said the joint team established contact with the militants, who were entrenched in a cave surrounded by thick vegetation and steep rocky cliffs, at around 7.30am Friday. Soon, a shootout followed between the Army-led team and the militants.
During the encounter, the militants triggered an explosive device, in which two Army soldiers were killed and four more injured, including an officer. The injured soldiers have been evacuated to the Army Command Hospital at Udhampur.
India Sentinels has learned that the fallen two soldiers were special forces commandos from the 9 Para (SF) unit. The Army didn't release the name, rank, and the unit of the fallen and injured soldiers at the time of publication of this report.
The Army, in the statement, further said the group of militants are trapped in the area. There is a likelihood that the terrorists also suffered casualties. Additional security teams from nearby areas have been directed to the site of the encounter. It said the operation was still in progress.
This is a developing story. Will be updated with fresh inputs
---