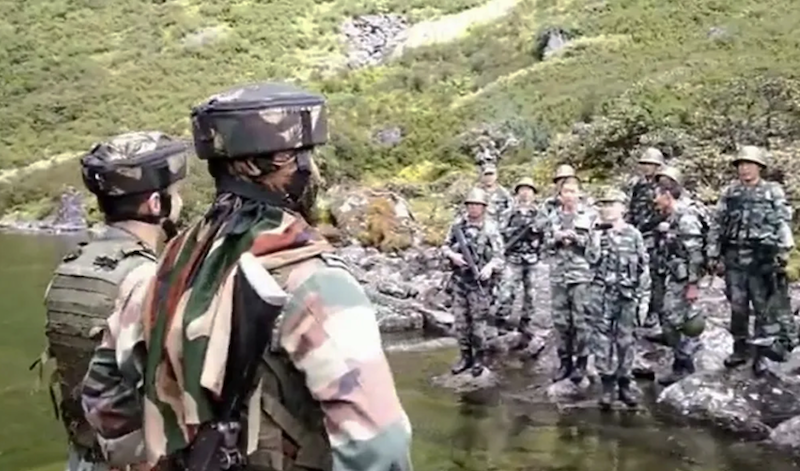 Indian and Chinese troops facing each other across a rivulet near the LAC in the Tawang sector. (Photo for representation)
New Delhi: Troops of the Indian Army and China's People's Liberation Army clashed near the line of actual control (LAC) at the Tawang sector on December 9, the Army in a statement said, on Monday. In the statement, the Army also said some troops from both sides sustained minor injuries during the incident.
The Army, however, didn't release specific details about the incident.
According to a Hindu report quoting "multiple sources", the clash took place near Yangtse in the Tawang sector. The area is around 35 kilometres from the Tawang town and is very close to the India-Bhutan border.
Quoting a source, the report said the Indian troops clashed with around 600 Chinese troops, in which a few Indian soldiers suffered fractures. They were now being treated at a hospital in Guwahati. The report also quoted a defence official as saying that the number of Chinese troops who sustained injuries was "much higher" than the Indian side.
The area has witnessed face-offs and jostling between the two armies in the past as well. The last noteworthy face-off happened in October 2021 when Indian troops thwarted the Chinese troops when they tried to capture a feature at an altitude of 17,000 feet.
According to Monday's Army release, both sides immediately disengaged from the area. As a follow up of the incident, the Indian Army commander in the area held a flag meeting with his Chinese counterpart to discuss the issue in accordance with structured mechanisms to restore peace and tranquillity.
It may be recalled in May 2020, Indian and Chinese troops violently clashed with each other with bare hands, sticks, stones, and improvised clubs when Indian troops went in to dislodge Chinese troops who intruded in Indian territory and squatted in eastern Ladakh's Galwan valley. During that clash, 20 Indian Army soldiers, including a colonel, was killed, 70 others were injured, and dozens were taken prisoners. Officially, China acknowledged four deaths on their sides, although the figure is widely believed to be much higher.
Although China has pulled back from some areas in Ladakh, they continue to control around 1,000 kilometres of Indian territory till this date. Several rounds of top-level military-to-military talks have failed to resolve the issue.
Since then, there have been a massive military build-up on both the sides and troops continue to be on a high alert in the region.
---