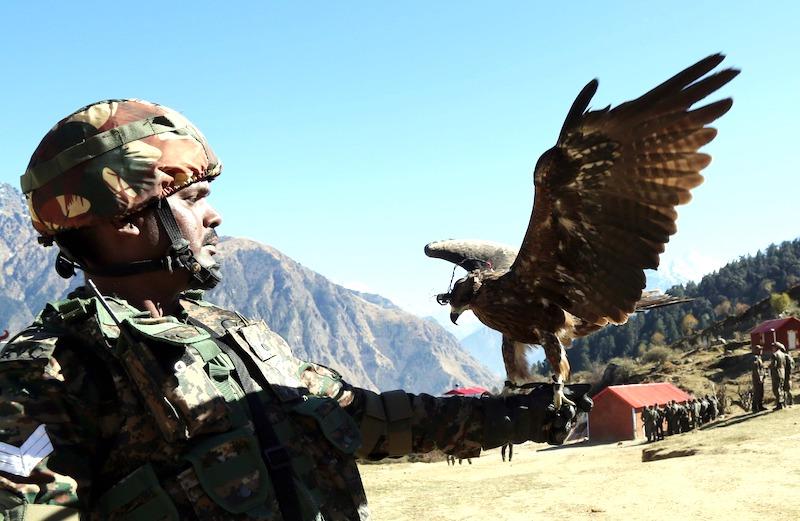 An Indian Army soldier with an anti-drone black kite.
Auli (Uttarakhand): The Indian Army has showcased two black kites and a dog trained to counter small enemy drones as well as enhance its surveillance capabilities at the Auli military station in Uttarakhand during the ongoing "Yudh Abhyas" joint military exercise between India and the United States.
The Army had been training raptors and canines its Meerut-based Remount Veterinary Corps Centre to deploy them for anti-drone and surveillance duties along the western and northern borders with Pakistan and China.
It's a plane, no it's a bird 🦅 !!

Indian Army's drone predator kite 'Arjun' 🦅🇮🇳

Army's training eagles & falcons to swoop down on hostile drones. pic.twitter.com/TH4SCdcQYn

— Ashwini Shrivastava (@AshwiniSahaya) November 30, 2022
During the demonstration, one of the kites was equipped with a mounted surveillance camera and a GPS tracker was attached on its leg relaying real-time information to its handler on ground during its flight. Then a quadcopter was flown, on which the bird swooped and hit with its claws forcing the drone to crash.
#WATCH | Indian Army demonstrates the capability of the trained Kite to take down small drones at Auli in Uttarakhand pic.twitter.com/AkZvbTJjSi

— ANI (@ANI) November 29, 2022
Speaking on this, an Army officer said the project to use raptors is currently under trial and the Indian Army tested it for the first time during a military exercise. He also added that several European countries and the United States use birds for surveillance and interception purposes.
After successful validation, the trained black kites will be deployed along the borders to keep a tab on flying objects trying to sneak into the Indian territory. In recent months, several cases of drone infiltration have been reported along the international boundary in Punjab, Rajasthan, and Jammu & Kashmir.
While two black kites are taking part in Yudh Abhyas 2022 exercise, several others are currently under training and may take some time to get operational.
Giving the reason for using the black kite, an Army official said: "The black kite doesn't come under the endangered species category. And since it is a bird of prey, it has an innate instinct to attack a flying object."

The dog trained for surveillance and anti-drone operations is a German shepherd. It has been trained in such a way that it alerts the troops or handler about a flying object. Dogs have better capability to hear the sounds than human beings. The dog barks when he hears the sound and alerts the handler about it.
Indian army's anti-drone Kite (hunting bird) and K9 (military dog) in a single frame pic.twitter.com/5FezFw777z

— OsintTv📺 (@OsintTv) November 29, 2022
The project to train the black kites and dogs was initiated in 2020 after the western border witnessed a sharp rise in infiltration of drones from across the border.
---