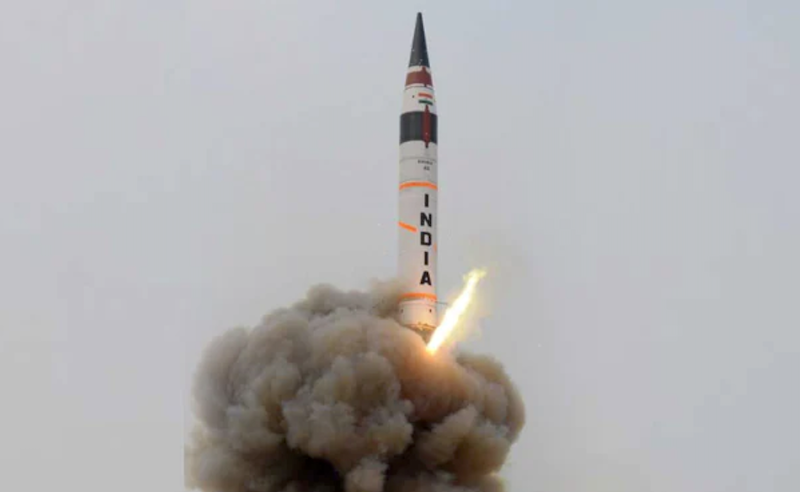 Agni V during a trial. (File photo)
New Delhi: India test-fired its latest version of Agni V missile in full operational mode. The user trial of the intermediate-range ballistic missile (IRBM) with a stated range of 5,500 kilometres was conducted from Dr APJ Abdul Kalam Island off the Orissa coast in the Bay of Bengal after sunset at around 5.47pm, on Thursday.
The Agni V is a nuclear-capable strategic missile in India's arsenal. The missile that was test-fired on Thursday has many improvements from the first Agni V, which was tested on April 19, 2012. Since then, seven more test-firing of the missile was conducted, after which the missile was put through user trials.
Today 5:49 PM IST
i was saw this light on sky , at West Bengal India not only me many people saw this around south Bengal
it was spacecraft, passenger Flight, aircraft, or UFO?
@NASA @isro @roscosmos @esa @esascience @Doctor_Astro @uaespaceagency pic.twitter.com/IG0aTBUyH0

— Avijit Dey अविजित (@IamAvijitDey) December 15, 2022
According to media citing sources in the defence establishment, Thursday's night trial was to validate new technologies and equipment on the missile. Without revealing many details, they said the new Agni V was lighter than its previous versions. The launch also validated that the missile could hit targets further away than before.
It may be noted that when India issued a "notice to airmen" for a no-fly zone over the Bay of Bengal, it sought all aircraft flying over the sea to stay clear of a 5,400km-long strip of airspace for an hour between 11.30pm and 12.20am on the night of December 15-16.
#AreaWarning #India issues a notification for a very large no fly indicative of a likely missile test

Launch Window | 15-16 Dec 2022 pic.twitter.com/ZVglPb3ElT

— Damien Symon (@detresfa_) November 29, 2022
With the trajectory the latest missile is expected to have taken, experts say the missile's range could be much longer than what India officially acknowledges.
#Breaking - #India has successfully test fired an intercontinental nuclear capable ballistic missile #Agni5 with a notified range of 5,400 kilometers, here's a basic range map pic.twitter.com/qkYYiP0cny

— Damien Symon (@detresfa_) December 15, 2022
When the missile was first launched in 2012, Chinese experts alleged that the real range of the missile was 8,000, making the Agni V an intercontinental ballistic missile (ICBM) and not an IRBM. Even with a range of 5,500km, the Agni V can hit targets in even northern China. All its major cities are with the missile's range.
Although India issued the original NOTAM for Thursday midnight, it launched the missile a few hours earlier. Some observers are speculating that it may have something to do with the entry of a Chinese spy ship, Yuan Wang-5, into the Indian Ocean Region just days ahead of the missile's launch. India had to drop the plan for a similar launch in November when another Yuan Wang-class spy ship, Yuan Wang-6, entered the IOR.
Yuan Wang 5, #China's missile and satellite tracking vessel has entered the #IndianOcean region pic.twitter.com/m6uQf4XbMX

— Damien Symon (@detresfa_) December 5, 2022
Currently, India and China are locked in a bitter military stand-off in eastern Ladakh since the June 2020 deadly clash between Indian Army troops and China's People's Liberation Army troops in the Galwan valley. Since then, there have been frequent, albeit non-fatal, clashes not only in Ladakh in the northern sector but in Arunachal Pradesh in the eastern sector as well. The latest such major clash took place on the night of December 9 at the Yangtse area in the Tawang sector.
The Defence Research and Development Organization, which developed the missile, is reported to be working on developing multiple independently targetable reentry vehicles or MIRVs for its Agni missiles. It means a single missile can carry a small number of (three to four) independent pre-programmed nuclear warheads that can hit separate targets independently when released. Russia is believed to have the largest MIRV ICBM. Its R-36M missile (Nato name SS-18 Satan) can carry up to 10 nuclear warheads that can hit 10 different targets.
---