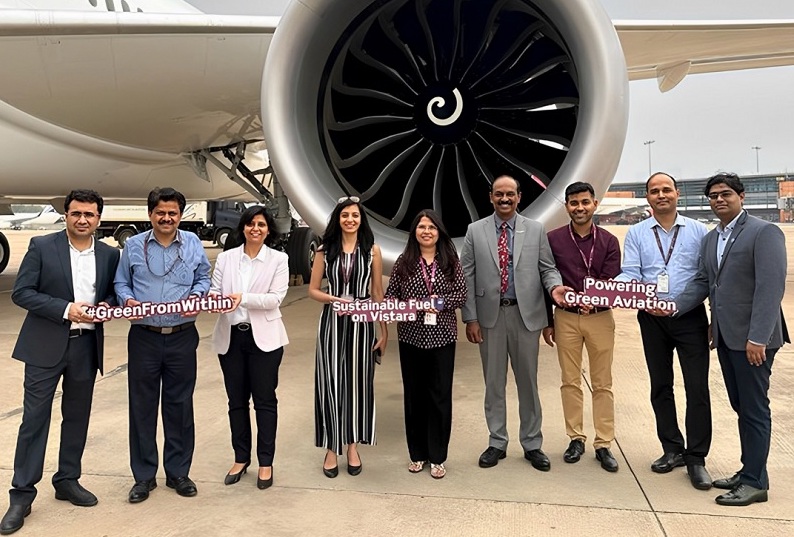 New Delhi: GE Aerospace's GEnx aircraft engines powered the industry's first wide-body aircraft on a long-haul route using sustainable aviation fuel (SAF) to India, on Tuesday.
Vistara, India's full-service carrier and a joint venture of Tata Sons and Singapore Airlines, operated the Boeing 787-9 Dreamliner ferry flight from Charleston, South Carolina, in the United States, to New Delhi, India, used a blend of 30% SAF with conventional jet fuel.
"GE Aerospace is committed to helping our customers reduce emissions with advanced, more efficient propulsion technologies like the GEnx engine. Collaborations like this, that bring a long-haul flight using SAF for the first time to India, show what solutions are possible on a global scale towards the aviation industry's net zero ambitions," said Dave Kircher, general manager of the GEnx engine program for GE Aerospace.
The GEnx engine is a high-thrust jet engine developed for the 787 Dreamliner and 747-8 airplane.
Compared to its predecessor the CF6, the GEnx engine is up to 15% more fuel efficient with up to 15% fewer CO2 emissions.
Representing a giant leap forward in propulsion technology, GEnx uses lightweight durable materials and advanced design processes to reduce weight, improve performance, and lower maintenance, making it the best engine choice for many long-haul flights.
"GE Aerospace congratulates Vistara on this milestone. The GEnx engine, like all GE Aerospace engines, can operate on approved SAF blends today. Compatibility with existing aircraft engines is one of the reasons SAF is critical to helping the aviation industry reach its goal to be net zero by 2050 and collaborations like this encouraging greater adoption of SAF globally helps bring us closer to this target," said Vikram Rai, GE Aerospace's country head for India and Indonesia.
---