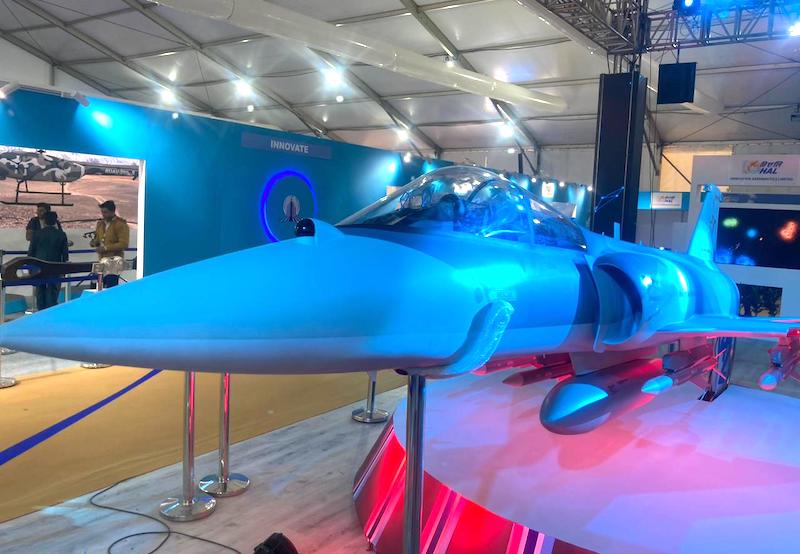 A model of the HAL's HLFT-42 displayed at Aero India – 2023. (Photo: Palak Sharma/India Sentinels)
Bengaluru: With an aim to train pilots and make them ready for India's planned indigenously made futuristic warplanes, state-owned aircraft maker Limited has started a project to manufacture an advanced supersonic training aircraft, named Hindustan Lead Fighter Trainer-42 or HLFT-42. A model of the aircraft was displayed at Aero India – 2023, which started on Monday at the city's Yelahanka airbase.
Talking to reporters at the event, Group Captain HV Thakur (retired), who is now a HAL test pilot, said the HLFT-42 will be like the recently approved projects like the light combat aircraft (LCA) Tejas MKII and the advanced medium combat aircraft (AMCA. Therefore, the new fighter trainer will have to keep up with that kind of requirement. It should have similar sensors and weapons.
---
Read also: HAL to roll out prototype of first indigenous multirole copter in 4 years
---
It may be noted that the AMCA project is to develop and produce fifth-generation fighters with stealth features. Apart from LCA MK II, the HAL is also developing a twin-engine deck-based fighter (TEDBF) for the Indian Navy's aircraft carriers. The Navy has already stated that the TEDBF would be the mainstay fighter for its carriers in the future.
The development of these fighters is expected to be completed in around 10 years from now. Therefore, the HLFT-42 trainers should be available for pilots to train on before around the time those advanced jets start rolling out.
---