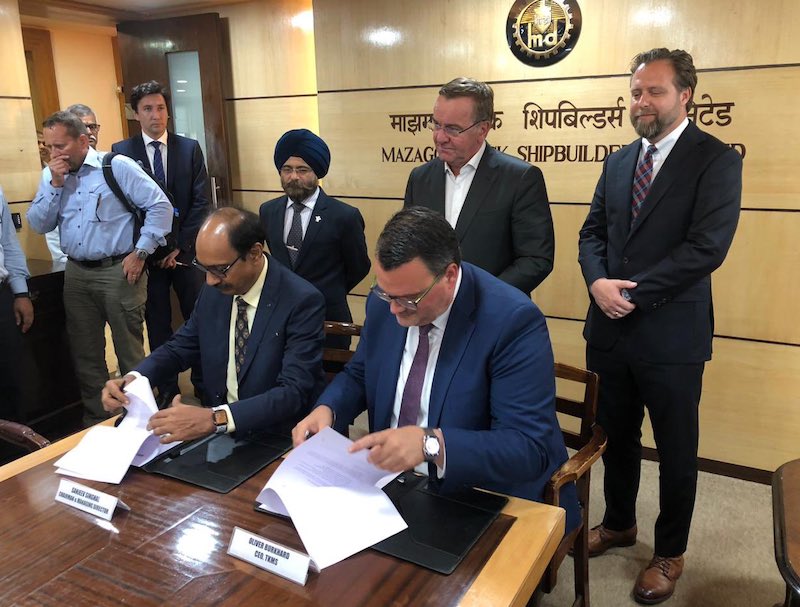 MDL chairman and managing director Sanjeev Singhal (L) signing the MoU with TKMS CEO Oliver Burkhard in the presence of the German defence minister, Boris Pistorius (standing second from right) and other officials in Mumbai, on June 7, 2023. (Photo by special arrangement)
Mumbai/New Delhi: Germany's defence major thyssenkrupp Marine Systems and India's leading shipbuilder Mazagon Dock Shipbuilders Limited signed a memorandum of understanding, on Wednesday, to jointly bid to build the six next-generation stealth conventional submarines for the Indian Navy under the Project-75(I). The MoU was signed in the presence of the German defence minister, Boris Pistorius, in Mumbai.
This comes a day after Pistorius dropped a big hint that TKMS might bag the Project-75(I) contract following his talks with the Indian defence minister, Rajnath Singh, in New Delhi.
---
Read also: Big hint on next-gen Navy submarine deal after India-Germany talks
---
In a statement released by MDL, the shipbuilder said the two companies intended to construct conventional submarines with air-independent propulsion.
It said: "Thyssenkrupp Marine Systems would contribute to the engineering and design of the submarines as well as the consultancy support to this joint project and Mazagon Dock Shipbuilders Limited would take responsibility for constructing and delivering the respective submarines." MDL also said the submarines would be built in India, which are expected to have significant local content.
For TKMS, the company's CEO, Oliver Burkhard, said: "We look back on a trusting and decade-long partnership with India. The boats we built in the 1980s are still in service today. We are very proud of that and would be delighted to contribute to India's national security further on. We stand ready when India calls on us."
India issued the request for proposal to build six next-generation stealth conventional submarines in India worth 43,000 crore ($5.8 billion) two years ago, in July 2021, under Project-75(I). The RPF had to be extended by two years until August 2023 because the foreign bidders, except TKMS and South Korea's Daewoo Shipbuilding & Marine Engineering, pulled out because they didn't fulfil the technical criteria for air-independent propulsion system that the Navy required for its next-generation conventional submarines.
---
Read also: GE may make fighter engines in India, deal likely during PM's US trip
---
Later, TKMS and DSME too didn't know much enthusiasm because of India's stringent liability clause in the project, which put almost the entire onus on the foreign partner should anything go wrong in the project.
During Tuesday's delegation-level bilateral talks between Boris Pistorius and Rajnath Singh, it is believed that India agreed to water down some part of its liability clause to enable the foreign companies to build the six submarines with an Indian partner under the Project-75(I).
It may be recalled that India and Germany have had a strategic partnership since 2000, which has been gradually strengthened from 2011 onwards through intergovernmental talks at various levels.
---